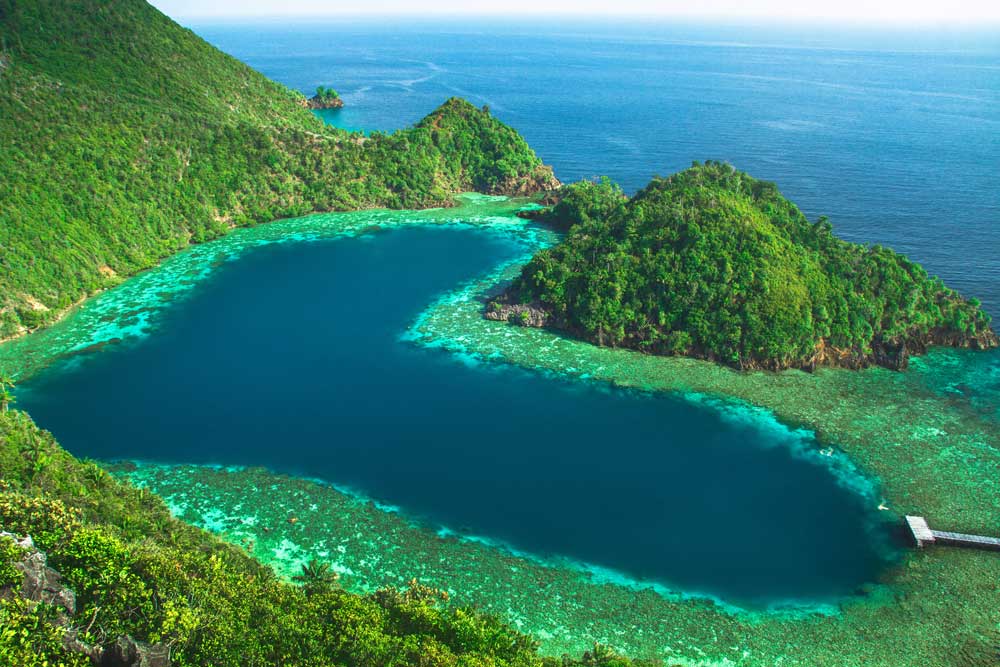 Top 3 Indonesia Liveaboard Destinations
Indonesia is sitting between two big oceans and it's a dream place for divers. With over 17,000 islands, it's a hotspot for sea life. Home to almost 20% of the world's coral, Indonesia's underwater diversity is truly unmatched.
With such a significant number of islands, it is easy to imagine that Indonesia offers a lot of possibilities for scuba diving in world class destinations such as: Alor, Maratua, Maumere, Bali, and others. But through all of them, there are precisely 3 top Indonesia liveaboard destinations: Raja Ampat, Komodo, and Banda Sea.
Dive Deep into Indonesia Liveaboard Destinations: Uncovering the Ocean's Hidden Gems
Among the world's top diving destinations, any diver would choose Indonesia. The thousands of islands that provide untouched coral reefs and diverse marine life simply makes Indonesia a diving destination to come back. If you're a seasoned diver, Indonesia will provide so many options that you will have to come back 5-6 times or more to really explore the entire country and everything it has to offer.
To mention some of Indonesia's best diving spots: Lembeh Strait, Maratua, Alor, Halmahera, Maumere, and the list can keep going. But there are three spots in Indonesia that stand above all and those are: Raja Ampat, Komodo and Banda Sea.
These top three diving spots in Indonesia, are all sitting in different diving seasons and that alone gives divers reasons to come back year after year: Komodo is ideal during the months of April to September, Banda Sea between September and November, Raja Ampat between October and April. You see how they perfectly fit and transition from one another?
The liveaboards in Indonesia move in between these top three locations following the right seasons and in between offering crossing trips that take divers through the other spots such as Maumere, Alor, Kaimana, Triton Bay and others.
Choosing one or another between Raja Ampat, Komodo and Banda Sea is quite difficult because all of them offer unique diving experiences with different things to see underwater. To another degree, the diver's experience is also a key aspect because for example Raja Ampat can provide some beginner friendly dive sites but Komodo is infamous for strong currents and Banda Sea can sometimes require deep dives to enjoy the Hammerhead schooling. Moving forward, let's look at each of these diving locations:
Raja Ampat
Raja Ampat, also known as the Four King Islands is considered to be Indonesia's crown jewel for scuba diving. It's found in West Papua and comprising of 1,500 small islands and cays. The name of Raja Ampat (The Four Kings) reflects the four major islands: Waigeo, Batanta, Salawati, and Misool.
Raja Ampat's underwater world showcases a staggering 600 species of hard corals, making up a whopping 75% of the global total. Beyond corals, the diverse fish population ranges from the tiniest of nudibranchs to the majestic Manta Rays and occasional sightings of Whale Sharks. The signature for Raja Ampat diving however is spotting the carpet shark known as Wobbegon Shark.
To dive into Raja Ampat's waters, travelers typically fly to Sorong Airport and then transfer by boat to the many dive resorts or join liveaboard expeditions. Most liveaboards depart from the port city of Sorong but there are a select few that depart from Waisai which requires guests to board a fast boat from Sorong to Waisai to join their chosen liveaboard. The prime time to experience these underwater miracles stretches from October to April, during which water temperatures pleasantly hover between 27°C and 30°C (80F - 86F).
Diving in Raja Ampat brings two possible itineraries that almost all liveaboards follow: North and Central or South and Central. The north itinerary is considered the best while the south is off the beaten tracks visiting Misool. In reality, either going north or south, you will get to see the true beauty of Raja Ampat. In the central itinerary divers will find the popular dive sites such as Blue Magic, Sawandarek and Chicken Reef, must visit spots.
Komodo
Nobody can speak about diving in Indonesian without mentioning Komodo and the Komodo National Park. Although Komodo has always been a tourist attraction for the Komodo Dragons and the beautiful island landscapes such as Padar and Pink Beach, Komodo is now one of the world's top diving destinations and for very good reasons: diverse tropical marine life, manta rays, dugong, whale sharks, stunning coral reefs, exciting drifts, shark feeding sites, and this is just a short list.
As a diving destination, Komodo is easily reachable from all major Indonesian cities such as Jakarta or Bali. For example, being an easy 45 minutes flight from Bali, makes Komodo an attraction for diving enthusiasts either beginners or advanced.
Diving in Komodo is exciting. The currents are unpredictable but bring tons of things to see underwater. The dive sites such as Castle Rock and Crystal Rock are must visit along with Manta Point, Mawan and Manta Alley for spotting the Manta storms. The coral reefs are simply stunning in Tatawa Besar, Siaba, and Sebayur but the absolute most popular dive site in Komodo is Batu Bolong.
Water temperatures are warm all year around 27C (80F) except if going to the south part of the Komodo National Park in dive sites such as Manta Alley and Cannibal Rock where you might experience lower temperatures down to 23C (73F).
Banda Sea
The Banda Sea, once the epicenter of the historic spice trade, has transformed into an underwater wonderland for divers. The deep-sea walls at Nusa Laut mirror nature's art gallery, while the waters around South Ambon offer thrilling encounters with hammerhead sharks.
While Banda Sea has a lot of diving opportunities to offer starting from macro photography to wide angle and colorful reefs, the highlight by far is spotting the Hammerhead Schooling around Suanggi Island, Hatta and Serua.
When planning to visit the Banda Sea there is only one reason that comes in our minds, and that's the Hammerheads. Simply imagine being underwater at around 25 meters deep (82 feet) and seeing a wall of Hammerhead sharks passing by in front of you, literally hundreds. That's a sight you will never forget.
Arriving in Banda Sea takes travelers off the beaten tracks with 2 stops from any major cities in Indonesia. The main city in Banda is called Ambon which has two harbors from where liveaboards typically depart, either Ambon or Tulehu.
Water temperatures are typically anywhere around 25C (77F) and as a diver looking for the Hammerheads, you hope the water it's going to be chiller because if it's too warm, you will surely don't see any hammerheads.