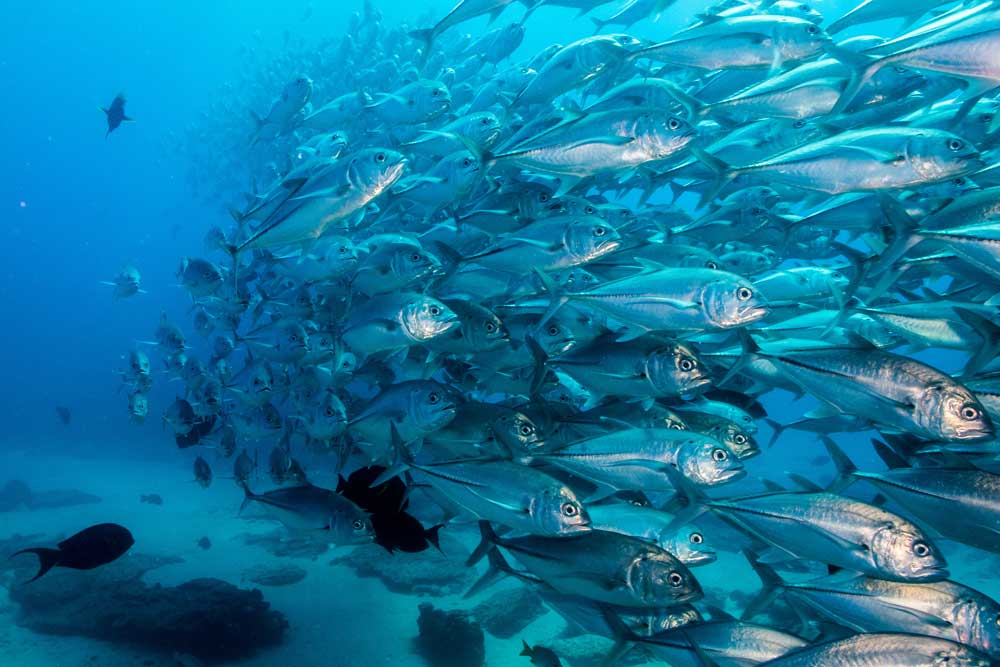 Mexico Liveaboard Diving: Dive into a World Beyond Belief
Off the coast of Mexico is an underwater paradise, just waiting to be explored by scuba divers. The experience of liveaboard diving in Mexico is like nothing you've ever experienced before. Picture waking up, putting on your gear, and diving into crystal clear waters brimming with colorful marine life. You will have wonderful experiences with marine life in places like the islands of Socorro, the Sea of Cortez, and Guadalupe.
Mexico liveaboard diving offers an experience like no other, from swimming with playful sea lions in the Sea of Cortez, marveling at the majestic manta rays in Socorro, to facing the awe-inspiring great white sharks in Guadalupe. Dive into this underwater paradise and uncover the treasures of Mexico's oceans.
About Mexico Liveaboard Diving
Dive into a World of Colorful Reefs, Giant Mantas, and Unknown Wonders Below the Surface of Mexico diving.
Divers onboard a liveaboard in Mexico can anticipate doing 3 to 4 dives per day, depending on the weather and itinerary of course. Explore Mexico's breathtaking Cenotes, get up close and personal with a great white shark, or swim with a pod of humpback whales, yes all of this is truly possible diving in Mexico.
Socorro Island: The Manta Ray Capital
Situated some 400 km (250 miles) off the Baja Peninsula, the Socorro Islands, also known as the "Mexican Galapagos," are a prime location for divers seeking intimate encounters with large pelagic species. Socorro is a magnet for:
Giant manta rays: With their graceful flights, they're known to approach divers for a playful interaction.
Dolphins: They're not just swimming by — they're eager to interact.
Whales: Humpback whales can be seen, especially between January and March.
Sharks: From hammerheads to silky sharks, the variety here is unmatched.
Water temperatures range from 20 degrees Celsius (68 degrees Fahrenheit) to 29 degrees Celsius (84 degrees Fahrenheit), and visibility can be anywhere from 15 meters (49 feet) to 50 meters (164 feet).
Popular areas for diving in Socorro on a Mexico liveaboard are: San Benedicto, Roca Partida, and Clarion Island.
Sea Of Cortez: Aquarium of the World
Jacques Cousteau, the renowned marine explorer, once called the Sea of Cortez the "world's aquarium," and it's simple to see why. Located between Baja California and the Mexican mainland, this body of water is a diver's paradise due to its rich marine life. Some notable examples of marine life are:
Sea lions: Dive in and play with these frolicsome creatures.
Moray eels, colorful reef fish, and nudibranchs: They paint the seascapes with vibrant colors.
Whalesharks: These gentle giants frequent these waters, especially near La Paz.
Mobula rays: Watching their mass gatherings is a spectacle in itself.
One of the few coral reefs in this region is located at another popular diving spot known as Cabo Pulmo.
Guadalupe: The Great White Arena
Cage diving with great white sharks is a popular activity in Guadalupe, which makes it a wonderful destination for thrill-seekers looking for an exciting new experience. The visibility is exceptional here, frequently reaching more than one hundred feet, making it an ideal location for photographers who wish to get up close and personal with these magnificent animals.
When To go?
Diving in Mexico is amazing all year round, however to get the most out of your time there you should consider:
Socorro Islands: November to May. This is when the waters are calmest and visibility is best. Water temperatures hover around 70°F-80°F (21°C-27°C).
Sea of Cortez: June to November. Expect water temperatures between 64°F-86°F (18°C-30°C).
Guadalupe: August to October is the prime time for shark encounters. Water temperatures are relatively cooler at 65°F-75°F (18°C-24°C).