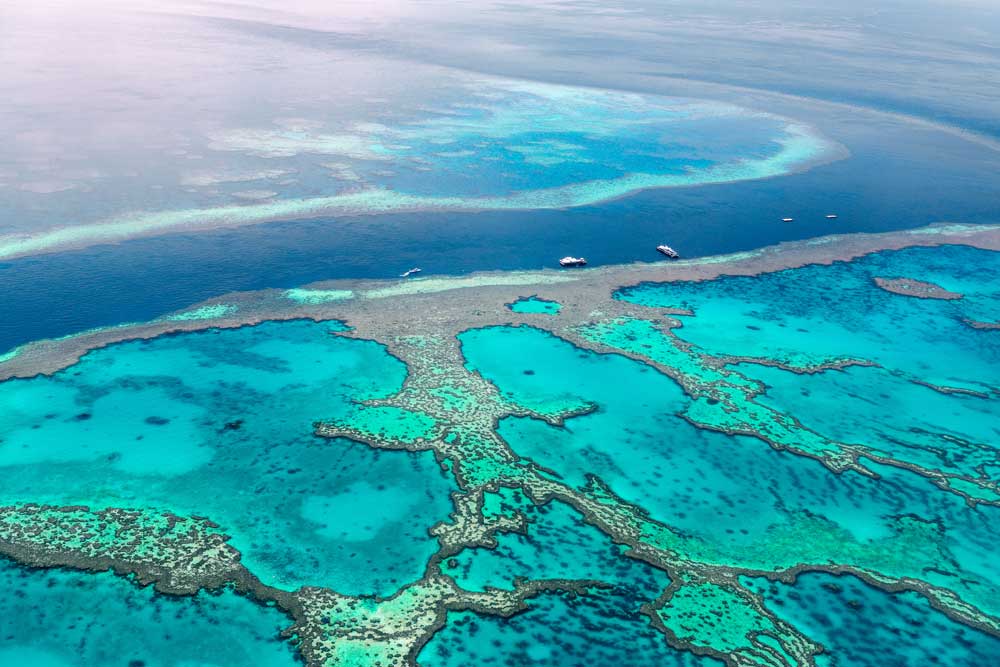 Australia Liveaboard Diving: A Journey through the Ocean's Paradise
The Great Barrier Reef should be the first and only thing that comes to the mind of every diver who is considering going scuba diving in Australia. The Great Barrier Reef is best appreciated by setting sail on one of the many liveaboards that depart from Cairns. These boats will take you to regions of the outer reef, allowing you to escape the more crowded areas of the inner reef. There, you will be able to see stunningly beautiful coral that has not been damaged and a vast variety of amazing aquatic life.
Although the Great Barrier Reef (GBR) is the main attraction, scuba diving and liveaboard diving in Australia have quite more to offer. Western Australia, provides excellent diving opportunities.
About Australia Liveaboard Diving
Diving in Australia offers an unparalleled underwater journey through vibrant coral gardens, bustling marine life, and iconic dive spots, epitomizing the world's most magnificent marine wonders.
Liveaboards in Australia range from sleek, speedy catamarans to state-of-the-art dive boats. Sizes vary from 24 meters (78 feet) to 37 meters (120 feet), with capacity for 20 to 48 passengers. All of them have central air conditioning, electricity, and at least some of them have free internet.
Sightings of Potato Cod families, Grey and Silver Tip Whaler Sharks, Hammerheads, Manta Rays, Humpback Whales, and Maori Wrasse, alongside a breathtaking variety of hard and soft corals are common when diving from an Australian liveaboard, exposing divers to a wealth of marine life not seen when diving near shore.
Key Spots to Dive:
Osprey Reef : Osprey Reef is a famous oceanic atoll that is 220 kilometers northeast of Cairns in the Coral Sea. It has deep seas that are clean and clear. It has a unique landscape with dramatic underwater rocks and landscapes that make it a diver's dream. The reef has a lot of different kinds of marine life. The North Horn spot is famous for shark feed dives with whitetip reef sharks and sometimes hammerheads. Divers can also see manta rays, groups of barracuda, colorful corals, and tiny creatures with complex bodies. Most of the time, the best time to dive is between June and November, when visibility is often more than 30 meters. As a key conservation site in the Coral Sea Marine Park, Osprey Reef is a prize for the environment and a top diving spot in the world.
Ribbon Reef : Ribbon Reefs is in the northern part of the Great Barrier Reef. It is made up of ten reefs that are all lined up in a straight line. It stands out because of its parallel formations and famous places like Steve's Bommie. It also attracts macro shooters with its colorful nudibranchs, pygmy seahorses, and many different coral species. At Ribbon Reef divers can expect to see pelagics and minke whales (especially between June and July), and visibility can be anywhere from 15 to 30 meters. Ribbon Reefs is in a great spot in the Great Barrier Reef, and protections are in place to make sure that its rich marine life stays a great place to dive for many years to come.
Milln & Flynn Reef : Both Milln and Flynn Reefs are famous places to diving and snorkeling. They are both part of the famous Great Barrier Reef and are about 60 kilometers from Cairns. Milln Reef is interesting because it has a lot of different places to dive. It is home to parrotfish and butterflyfish, and it also has amazing night dives with things like moray eels. Flynn Reef, which has a lot of nudibranchs, anemone shrimp, and bright flatworms, is a macro diver's dream. It is near famous dive sites like Tracy's Bommie. The Great Barrier Reef Marine Park Authority protects these reefs, which have visibility ranging from 15 to 30 meters and are good for divers with different levels of experience. They are a great example of Australia's lively marine beauty.
Cod Hole : Cod Hole is a dive spot in the northern part of the Great Barrier Reef, about 240 kilometers from Cairns. It is known all over the world for its unique interactions with the huge Potato Cod. This famous dive site has a mix of sandy bottoms, coral bommies, and deeper waterways that give divers a lot of different things to do. The main attraction is still the friendly Potato Cod, which can grow up to 2 meters long and is known for being gentle and interested. Divers often go to feed sessions, which give them a chance to see these beautiful fish up close while whitetip and blacktip reef sharks, trevally, sweetlips, and the elusive maori wrasse swim around. Cod Hole is a protected jewel in the Great Barrier Reef's vast marine tapestry. Visibility is usually between 15 and 25 meters, and mild currents make it easy for all types of divers to get there. The dive is both peaceful and exciting.
Lizard Island : Lizard Island is a land and sea refuge that is about 250 kilometers north of Cairns. It is part of the Great Barrier Reef, which is a huge area. The island is a diving hub, with sites ranging from the famous Cod Hole to the calm, coral-rich shallows of the Blue Lagoon. It also has soft sand beaches and great views from Cook's Lookout. Divers are greeted by a colorful parade of angelfish, parrotfish, and clownfish as they enter the water. Manta rays, turtles, and reef sharks also make stylish appearances. Invertebrates live in the complex reefs, which make each dive a dream for people who like to look at small things. With visibility often reaching 20 to 30 meters and dive conditions that are good for both beginners and experienced divers, Lizard Island has an underwater world that is just as beautiful as its land. Also, its conservation efforts, which are led by the Lizard Island Research Station, make sure that this underwater and terrestrial paradise will be a jewel for generations of travelers to come.
Diving in Western Australia
While the Great Barrier Reef gets much of the limelight, Western Australia offers equally tantalizing dive experiences. Diving in Western Australia is just as beautiful as on the East Coast, and divers who want to see a less-visited part of the world might be interesting. Liveaboards here leave from the town of Broome in the North West of the state to go to Clerke Reef and Mermaid Reef in the Rowley Shoals.
Mermaid, Clerke, and Imperieuse Reefs are three coral atolls in Rowley Shoals. They are about 300 kilometers west of Broome in the blue seas of the Indian Ocean. People say that these atolls, which rise out of the deep blue abyss, are some of Australia's most natural marine settings. The colorful coral gardens here are like a symphony of color and life. They cover an area of 80 by 25 kilometers and are full of life. Each atoll has its own lagoon, which is full of corals and marine life. Divers can choose from steep cliff drops to soft sand slopes. When you dive in Rowley Shoals, it's like jumping into a busy underwater city. Schools of trevally and tuna dart around, manta rays glide above, and reef sharks watch the depths. Rowley Shoals is far away from other places, so its waters are very clear. Divers often have great vision of up to 40 meters, which makes every dive a show. Even though the coral formations are amazing, it's the amount and variety of marine life that really makes this place stand out. There are small creatures like nudibranchs and anemone shrimp, as well as bigger pelagic species like the majestic whale shark. Because Rowley Shoals is so far away, the best way to see it is on a liveaboard. This way, divers can fully enjoy the beauty and peace of the area. Even though its remoteness is a problem, it is also a gift because it keeps the shoals from being overrun by tourists and keeps their ecosystems healthy and strong.
When To go?
Major international airports like Sydney, Brisbane, and Perth serve flights from all over the world. Once in Australia, domestic flights can take you closer to your diving destination, such as Cairns for the Great Barrier Reef.
The Great Barrier Reef is a great place to dive all year long. The water temperature ranges from 24 degrees Celsius in the winter (July and August) to 30 degrees Celsius in the summer (December and January). Between June and November, you can see Minke and Humpback whales. The summer is the best time to see the reef's variety of life because the water is clear and warm. The best time to visit the Rowley Shoals in Western Australia is between September and December. The only way to see these pristine reefs is by diving from a charter, so it's best to book early.