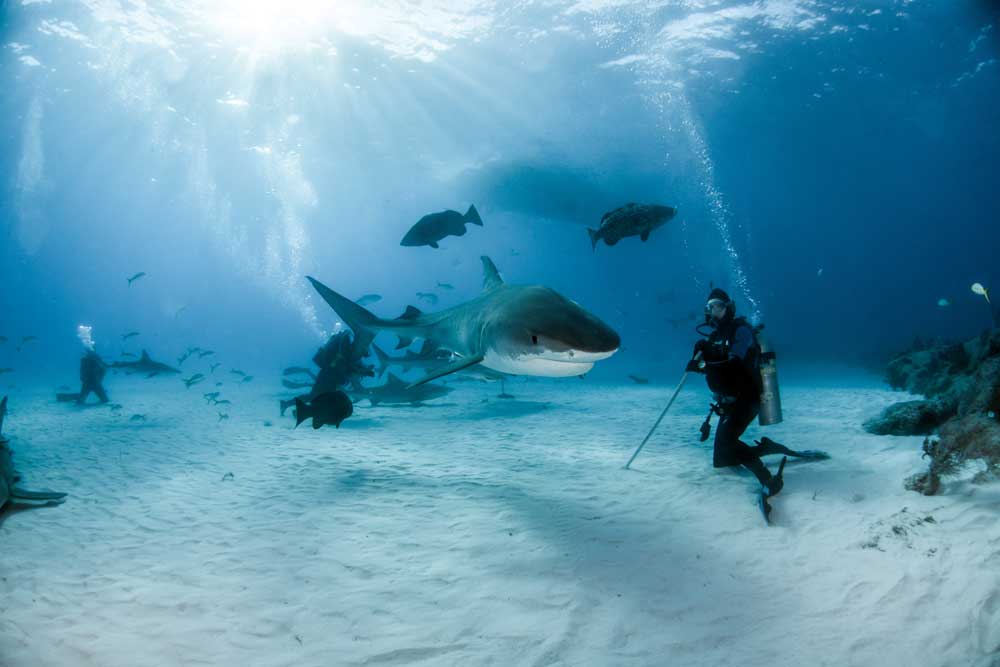 Bahamas Liveaboard: Your Guide to Diving Paradise
Embark on a breathtaking underwater adventure with a Bahamas liveaboard journey. Dive deep into the stunning Bahamian waters, surrounded by vibrant coral gardens, awe-inspiring shipwrecks, and mesmerizing marine life. Welcome to the ultimate diving paradise!
The Bahamas, with its 700 islands and over 2,000 cays, offers a diverse underwater world waiting to be explored. From the clear blue holes to its sprawling reefs and mystic caves, diving in the Bahamas is nothing short of spectacular.
Experience an abundance of marine life in the Bahamas. Marvel at schools of vibrant fish, graceful sea turtles, playful dolphins, and majestic sharks.
Highlights include Carribean reef sharks, Hammerheads, Spotted eagle rays, Goliath groupers, vibrant corals and sponges.
About Bahamas Liveaboard Diving
The Bahamas presents an unparalleled underwater mosaic.
Each dive on a Bahamas liveabaord is a unique canvas of colors, textures, and movements. From the mesmerizing blue holes that beckon with their mysteries to the vast, sprawling reefs that teem with life, the Bahamian underwater realms are a diver's paradise.
Venturing underwater, the water feels just right. With temperatures ranging from a cozy 77-88°F (25-31°C) year-round, it's always diving season in the Bahamas. The underwater visibility of these waters is stuff of legends, boasting visibility often extending beyond 100 feet (30 meters). While the currents remain generally mild, the occasional adrenaline-charged drift dive keeps things exhilarating.
Speaking of adrenaline, how about coming face-to-face with a Caribbean reef shark? Or watching the elegant Hammerhead sharks in their natural habitat? These encounters are standard on any Bahamas liveaboard. Alongside them, you'll find playful dolphins, graceful sea turtles, looming goliath groupers, and a vibrant array of corals and sponges.
To dive in the Bahamas is also to embrace its rich history and culture. Take Nassau, for instance. Here, divers can explore the famed James Bond Wrecks, submerged remnants of cinematic history. Not far from Nassau is the Tongue of the Ocean, a deep oceanic trench renowned for its breathtaking wall dives.
Further afield in Grand Bahama, divers can bask in the impeccable visibility of Ben's Blue Hole or get their hearts racing in Shark Alley. The Exuma Cays, with dive sites like Amberjack Reef and Austin Smith Wreck, cater to both the nature lover and the thrill-seeker. Dive deeper into the heart of the Bahamas in Andros, home to the mystical Blue Holes and the awe-inspiring Andros Wall. And for those with a penchant for legends, Bimini offers the enigmatic Bimini Road, thought by some to be remnants of Atlantis.
Diving in the Bahamas is highly accessible for everyone so for those new to the world of diving, starting with the basic Open Water Diver (OWD) certification is the gateway. But the Bahamian seas have more secrets waiting to be unveiled. To delve deeper into the abyss, the Advanced Open Water Diver (AOWD) certification is your passport.
Summary of Diving Areas and Dive Sites
James Bond Wrecks: Made famous by the films, "Never Say Never Again" and "Thunderball".
Tongue of the Ocean: A deep oceanic trench with remarkable wall dives.
Grand Bahama:
Ben's Blue Hole: Famed for its astonishing visibility.
Shark Alley: Ideal for thrilling shark encounters.
Amberjack Reef: A picturesque reef known for its schools of fish.
Austin Smith Wreck: A shipwreck teeming with marine life.
Andros:
The Blue Holes: Offers a mix of caverns and open water, unique to the Bahamas.
Andros Wall: A sheer drop-off, home to various marine species.
Bimini:
Bimini Road: Alleged to be remnants of the lost city of Atlantis.
Tuna Alley: Experience encounters with big pelagic fish.
A Bahamas liveaboard journey promises more than just a dive; it's a venture into an underwater realm of wonder. Whether you're a novice or an expert, the Bahamas has something for every diver. So why wait?
When To go?
The Bahamas is an archipelago blessed with year-round warmth, bringing divers from all corners of the world. While diving opportunities for Bahamas liveaboards are abundant throughout the year, there are distinct periods that offer optimal conditions for a Bahamas liveaboard experience.
Peak Season: December to April
These months represent the Bahamian dry season. With less rainfall, the seas are calmer, making it the ideal time for liveaboard excursions. Bright sunny days and clearer skies translate to superior visibility underwater.
This period sees a surge in marine encounters, especially with larger pelagic species. The famous hammerhead sharks, in particular, are more prevalent during these months. Water temperatures hover around a comfortable 77-80°F (25-27°C).
Off-Peak: May to November. These months fall under the rainy season, with a higher likelihood of showers and the potential for hurricanes, particularly between August and October. However, between rain showers, the sea can be just as inviting. The off-peak season still offers abundant marine encounters. Some species of sharks and rays might be more prevalent. Warmer water temperatures can be expected during this period, reaching up to 80-88°F (27-31°C).