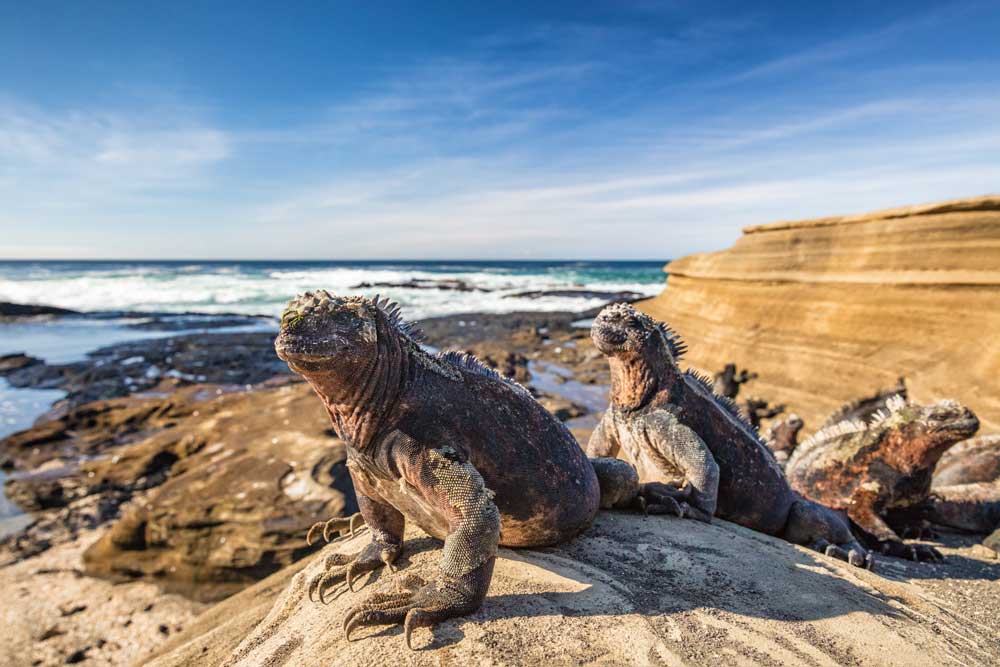 Galapagos Liveaboard Diving: An Unforgettable Underwater Adventure
The Galapagos Islands are about 1,000 kilometers west of the coast of Ecuador. They attract divers with some of the cleanest and most exciting diving spots in the world. Liveaboard diving in Galapagos is sure to be an amazing adventure, giving you access to remote dive spots full of unique marine life.
There aren't that many liveaboards in Galapagos, but the ones that are there are very nice. The liveaboards in Galapagos offer detailed services with full diving facilities and only hold up to 16 passengers. They have dedicated decks that are made for diving, with places to charge cameras and camera storage. Choosing diving in Galapagos is a chance to dive into one of the most unique and beautiful places in the world without having to worry about anything. Above all, Galapagos diving is suitable all year round.
About Galapagos Liveaboard Diving
Galapagos Diving: Where Every Dive Tells an Evolutionary Tale.
Most divers who go to Galapagos want to see the beautiful Darwin and Wolf islands, which can only be reached by liveaboards. During the Galapagos liveaboard trips divers can see the elusive Mola Mola, sea lions, marine iguana, huge groups of scalloped hammerheads, manta rays, and whale sharks. And this is just a short list of what can be seen here.
Darwin Island : Known as one of the best places to dive in the world. There are many oceanic species to see there. Divers can swim with hammerhead sharks, Galapagos sharks, and the amazing whale sharks here, especially when it's warm. Between June and November, whale sharks can be seen at Darwin Island.
Wolf Island : A popular destination for pelagic fish, Wolf Island much like its neighbor Darwin. You can also see eagle rays, Galapagos fur seals, and maybe even a pod of dolphins among the hammerheads.
Wolf and Darwin both have waters that are prone to severe currents and waves. Drift dives are possible on occasions due to strong currents. Most liveaboards require that divers have 50 or more logged dives under their belts. Most dives here will take divers down to approximately 30 meters (98 feet) depth.
Punta Carrion : Found on the northernmost tip of Santa Cruz Island, Punta Carrion features a protected harbor that is suitable for divers of all skill levels. You may witness a variety of tropical fish, stingrays, and sea lions. Most dives in the Galapagos call for the use of NITROX. The deepest point is roughly 33 meters (108 feet).
Cabo Douglas : Found on the northwest side of Fernandina Island, Cabo Douglas offers a one-of-a-kind Galapagos diving experience that allows divers to observe marine iguanas feeding underwater. This is a phenomenon that can only be found in the Galapagos Islands. In addition, there is a possibility that divers will see flightless cormorants, Galapagos penguins, and sea horses.
Cousins Rock : The captivating underwater structure of Cousins Rock, which can be found to the east of Santiago Island, is one of the reasons for the rock's widespread fame. It features walls, shelves, and overhangs. Sea lions, manta rays, and even the elusive seahorse have been seen in this area, among other species of marine life.
Marine Life and Water Temperatures
The Galapagos Islands are home to an abundance of marine life throughout the year; nevertheless, the water temperature shifts significantly from season to season. Expect temperatures between 70 and 86 degrees Fahrenheit (21 and 30 degrees Celsius) during the warm season (January to June). This time of year offers an increased possibility of spotting hammerhead and whale sharks, as well as manta rays and spotted eagle rays. During the winter season (July to December), the water temperatures dip to between 60 and 75 degrees Fahrenheit (15 and 24 degrees Celsius). Because of the presence of nutrients in the cooler water, schools of scalloped hammerhead sharks, red-lipped batfish, and even orcas are drawn to the area.
When To go?
While diving is spectacular year-round, the best time to visit the Galapagos is during the transitional months between seasons: April to June and November to January.
Worth noting, the surges and currents in the vicinity can be challenging and visibility between 10 and 21 meters (30 to 70 feet).