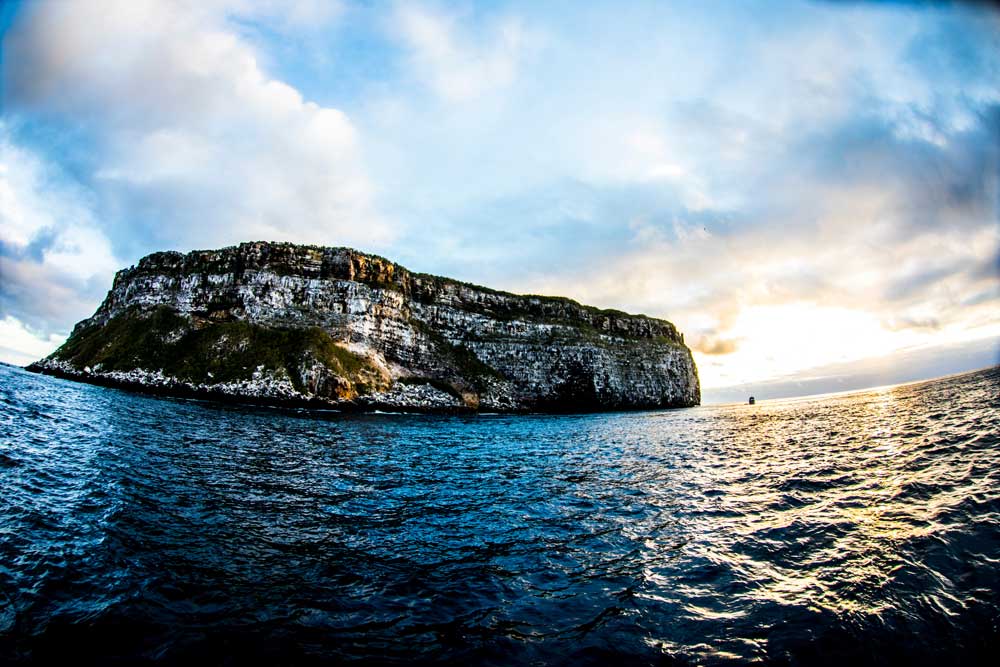 Darwin Island Liveaboard Diving in Galapagos
Dive enthusiasts from around the world flock to Darwin Island, an iconic dive destination in the Galapagos archipelago, drawn by its promise of exceptional underwater experiences. At a distance of about 200 miles north of the main marinas in the Galapagos, it's a favored spot for liveaboard diving trips, allowing divers to immerse themselves in the unique marine environment of the Galapagos without the hassle of daily commutes.
Darwin Island was named in honor of the renowned naturalist Charles Darwin, who visited the Galapagos in the 1830s. His observations here played a crucial role in the development of the theory of evolution. Despite its significance, Darwin Island remains uninhabited by humans and its shores are largely untouched, offering a pristine environment for divers.
About Darwin Island Liveaboard
Darwin Island offers a unique liveaboard diving experience that every diving enthusiast should have on their bucket list.
When it comes to dive sites, Darwin's Pillars stands out as a premier destination, although unfortunately the pillars now have collapsed. Not only is this site notable for its stunning underwater topography with towering rock pillars, but it's also a hotspot for witnessing the vibrant marine life of the Galapagos liveaboards.
Divers here often report encounters with hammerhead sharks, swirling in vast schools, and the playful dolphins that love to make an appearance. Turtles, manta rays, and large schools of tropical fish paint the waters with color, making every dive feel like a treasure hunt.
Spotting whale sharks and tiger sharks is quite common throughout the season of Darwin Island liveaboard. Dolphins and sea lions are yet another attraction that enchant divers onboard Darwin Island liveaboard.
While the beauty beneath the waves is undeniable, divers should come prepared for varying water temperatures. Throughout the year, water temperatures at Darwin Island can range from a cool 60°F (15°C) to a warmer 82°F (28°C). This variance is mainly influenced by the cold Cromwell Current from the west meeting the warmer Panama Current from the north. As such, divers should ensure they pack both thin tropical and thicker wetsuits to stay comfortable during their dives.
Typically liveaboards in Galapagos that visit Darwin Island will also stop at Wolf Island and at night retreating for safe harbor there. Wolf Island is located approximately 40 km (25 miles) from Darwin Island.
When To Go to Darwin Island?
For those wondering when the best time to embark on a Darwin Island liveaboard diving adventure is, the answer largely depends on what you're hoping to see.
From June to November, the cooler water temperatures draw in a plethora of hammerhead sharks and whale sharks, making it the best time for those who are eager to witness these majestic creatures up close.
However, December to May boasts clearer waters, calmer seas, and warmer temperatures, making dives more comfortable and visibility optimal.