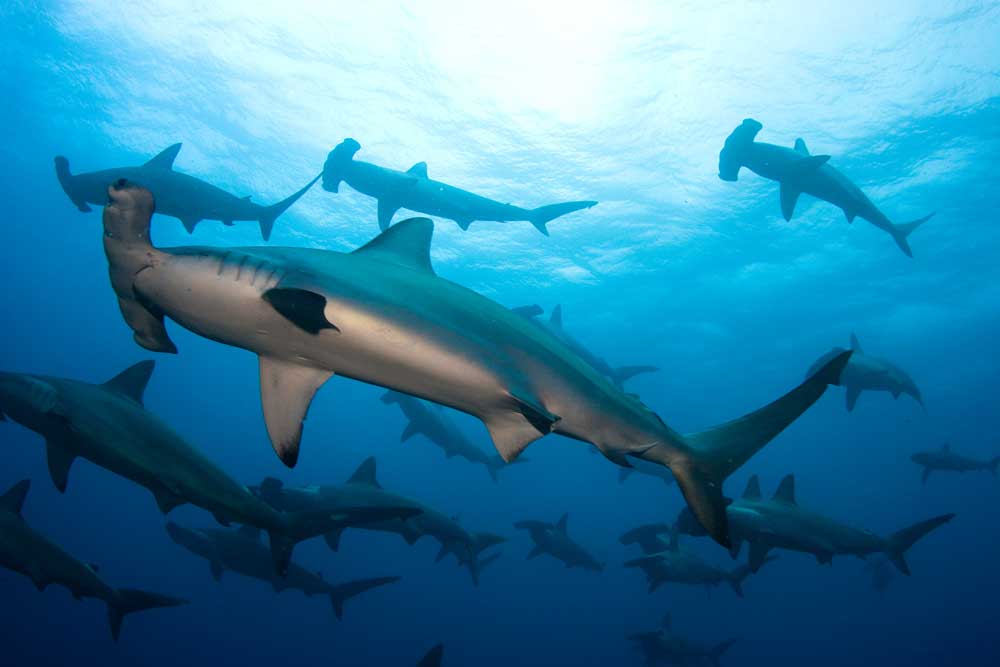 Wolf Island Liveaboard Diving in Galapagos
Nestled deep within the vast expanse of the Galapagos archipelago, Wolf Island is a diving paradise that promises an unparalleled experience for underwater enthusiasts. If you've ever dreamt of plunging into the depths of the azure sea while surrounded by an extraordinary array of marine life, Wolf Island liveaboard is the place to be.
Wolf Island offers an enchanting blend of history, marine biodiversity, and diving adventures. Embarking on a liveaboard trip to this diving haven in the Galapagos is sure to be a memory you'll cherish for a lifetime. When planning a liveaboard diving trip to the Galapagos, especially Wolf Island, remember to account for the strong currents. It's recommended to have some prior diving experience.
About Wolf Island Liveaboard
Wolf Island boasts a myriad of dive sites, each with its unique offerings.
Wolf Island, named after the German geologist Theodor Wolf, carries a rich history. Though it's uninhabited by humans, its legacy is deeply intertwined with the tales of pirates, whalers, and explorers who once roamed the Galapagos seas. The island, though primarily known for its diving experiences, stands as a silent sentinel bearing witness to centuries of maritime history.
When you dive at Wolf Island, you're greeted by underwater walls, plateaus, and, most intriguingly, volcanic underwater landscapes that give you the sensation of exploring another world. The currents can be challenging, but they bring a reward – a rich concentration of nutrients attracting marine life in vast numbers.
Wolf Island and Darwin Island are two of the most distant dive locations in Galapagos found approximately 150 kilometers (~93 miles) away from the nearest harbors.
The main attraction of Wolf Island liveaboard diving is the dive site known as El Derrumbe. It is well-known among divers for its diverse and abundant marine wildlife. Further let's learn about El Derrumbe and the other popular dive sites:
El Derrumbe: This site offers a mix of sandy bottoms and rocky terrains. The strong currents attract pelagic fish, and it's one of the spots where divers have a good chance to spot manta rays, especially during the warmer months.
Shark Point: Perhaps the most famous site at Wolf Island, Shark Point offers divers the chance to encounter vast schools of scalloped hammerhead sharks. Along with the hammerheads, it's not unusual to see eagle rays, Galapagos sharks, and even the occasional whale shark. The topography of this site features a sloping wall and a plateau, with depths ranging between 10 to 40 meters.
The Landslide: As the name suggests, The Landslide is an area of the seabed that has collapsed, creating an intriguing underwater terrain. This site is frequented by hammerheads, Galapagos sharks, and red-lipped batfish. Due to strong currents, The Landslide is more suitable for experienced divers.
The Pinnacle: This site stands out due to its iconic underwater rock formation, which resembles a pinnacle. The waters surrounding this formation are teeming with marine life. Divers can expect to see schools of barracudas, Galapagos sharks, and vibrant coral formations. The currents can be tricky, so always heed your dive guide's instructions.
The Anchorage: Closer to the island, The Anchorage offers a unique dive experience as it's located near where old pirate ships used to anchor. It has a sandy bottom with depths usually around 20 meters. Marine iguanas can be observed here, and sea lions often come to play, making it a favorite among photographers.
Water conditions at these dive sites can be challenging due to currents, which often means that Wolf Island is better suited for intermediate to advanced divers. But the rewards, in terms of marine encounters, are well worth the effort.
It's also worth noting that the visibility can vary. On some days, it can stretch up to 30 meters or more, while on others, it might be slightly reduced. But regardless of these variations, the abundance and diversity of marine life around Wolf Island's dive sites ensure an unforgettable diving experience.
Speaking of marine life, Wolf Island does not disappoint. It's home to vast schools of hammerhead sharks, a sight that leaves many divers in awe. Not just that, on a lucky day, you might even spot the elusive whale shark cruising gracefully through the waters. Add to this a captivating mix of Galapagos sharks, manta rays, dolphins, and a dazzling array of tropical fish, and you've got a diving experience that's truly world-class.
The water temperatures during a Wolf Island liveaboard can vary depending on the season. On average, they hover around 21 to 25 degrees Celsius, so it's essential to come prepared with a suitable wetsuit. Depths at diving sites can range from the shallows for beginners to challenging depths for the seasoned diver.
When To Go to Wolf Island?
If you're pondering about the best time to visit Wolf Island it's easy to say it's same as Darwin Island so you should consider the months between June and November. This period, known as the Garua season, offers cooler waters and a higher probability of spotting the magnificent whale sharks. However, every season brings its own unique marine encounters, making Wolf Island a year-round diving destination.
From June to November, the cooler water temperatures draw in a plethora of hammerhead sharks and whale sharks, making it the best time for those who are eager to witness these majestic creatures up close.
However, December to May boasts clearer waters, calmer seas, and warmer temperatures, making dives more comfortable and visibility optimal.