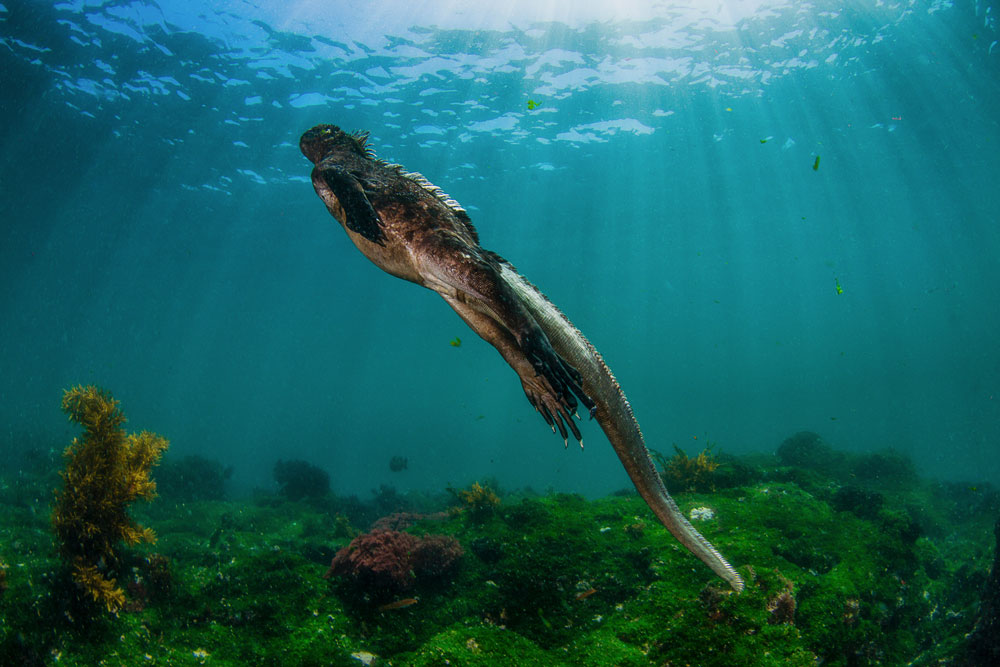 Galapagos Liveaboard Diving: An Unforgettable Underwater Adventure
Cabo Douglas, a remote outpost on the volcanic shores of Fernandina Island, is not just a dive site—it's a living museum of the Galapagos' fiery history and thriving present. Known historically as the land formed by fire, Fernandina is the youngest and westernmost island in the Galapagos Archipelago, boasting one of the world's most active volcanoes, La Cumbre. Here, the Cabo Douglas liveaboard experience is a gateway to a unique underwater adventure where divers can witness the results of volcanic activity alongside the archipelago's famous biodiversity.
Cabo Douglas liveaboard diving offers an intimate exploration of this untouched environment. The nutrient-rich waters, a result of the upwelling Cromwell Current, bring a bounty of food, attracting a plethora of unique species. On a Cabo Douglas liveaboard, divers can enjoy multiple encounters with the prehistoric marine iguanas that graze on the algae-rich rocks—activities best witnessed firsthand underwater.
About Cabo Douglas Liveaboard Diving
A Cabo Douglas liveaboard is not just a diving trip; it's an immersive experience into the ecological haven of the Galapagos.
The Galapagos Islands, of which Cabo Douglas is a part, became etched in history due to Charles Darwin's visit in 1835, which contributed to his groundbreaking theory of natural selection. This archipelago has since been a beacon for scientists and nature lovers. Fernandina Island remains one of the most pristine in the world, with human footprints kept to a bare minimum and conservation efforts at the forefront, preserving its natural history.
Divers traveling to Cabo Douglas can expect to swim alongside Galapagos penguins, flightless birds that have adapted to the marine lifestyle, a testament to the island's evolutionary wonders.
Choosing a Cabo Douglas liveaboard means experiencing the underwater marvels that vary with the seasons. During the warmer months, from December to May, a Cabo Douglas liveaboard trip offers divers the chance to glide through clearer waters with increased visibility, where they can observe a variety of sharks, rays, and playful sea lions in warmer conditions.
Conversely, the cooler waters from June to November draw in even more wildlife, with Cabo Douglas liveaboards providing front-row seats to nature's spectacle. It's during this time that the cooler currents encourage a greater aggregation of marine life, making for dramatic diving.
The Journey to Cabo Douglas
Reaching this diver's paradise typically begins with a flight to Ecuador and a subsequent flight to the Galapagos. From there, Cabo Douglas liveaboards embark on their journey, offering comfortable accommodations and the convenience of accessing exclusive dive sites.
Liveaboards in the Galapagos typically offer itineraries ranging from 7 to 14 days due to the expansive nature of the archipelago and the abundance of dive sites. A typical itinerary will include several key dive locations along with Cabo Douglas, such as:
Wolf and Darwin Islands: Often cited as the highlight of any Galapagos diving trip, Wolf Island and Darwin Island are two of the most remote northern islands that are known for large schools of hammerhead sharks, whale sharks (in season), and an abundance of other pelagic life.
Punta Vicente Roca: With its nutrient-rich upwelling, it's a prime spot for seeing mola molas (ocean sunfish) and a variety of macro life in the colder waters.
Cousins Rock: This is a beautiful wall dive where divers can see coral, sponges, sea lions, and perhaps even seahorses and frogfish.
Isabela Island: Here, divers can explore the underwater volcanic formations and interact with a variety of rays and schools of tropical fish.
Liveaboards that visit Cabo Douglas will often include land excursions as well, giving divers the chance to experience the Galapagos' unique terrestrial biodiversity, including giant tortoises, land iguanas, and an array of bird life.
Getting to and From the Liveaboard
Visitors usually fly into the Galapagos from mainland Ecuador, landing in either San Cristóbal or Baltra before being transferred to their liveaboard. Some itineraries also include return trips to the islands for guests to enjoy land-based attractions post-dive.
Liveaboard trips to Cabo Douglas and other Galapagos dive sites are meticulously planned to make the most of seasonal patterns and to adhere to the park's strict regulations regarding tourism and conservation. This ensures that divers not only have a once-in-a-lifetime underwater experience but also contribute to the ongoing preservation of this remarkable World Heritage site.