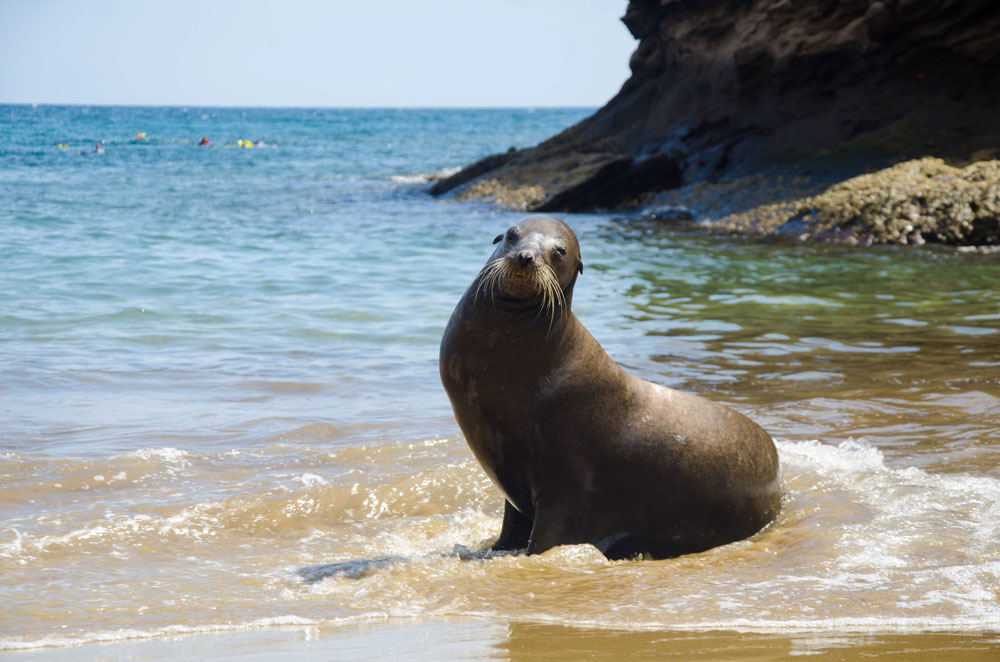 Punta Carrion Liveaboard - A Galapagos Adventure
Punta Carrion, located at the eastern edge of the northern islands of the Galapagos, offers a diving experience that is nothing short of spectacular. A Punta Carrion liveaboard trip stands out as one of the most extraordinary ways to immerse oneself in the marine diversity of the Galapagos Islands.
Punta Carrion is a dive site that greets you with a relatively mild current, making it a comfortable yet thrilling location for divers of all levels. The underwater topography is a gentle slope with a mix of sandy bottoms and rocky reefs, offering a home to an incredible array of marine life. Snorkeling is also possible on a Punta Carrion liveaboard, albeit not the most spectacular that Galapagos can provide.
Punta Carrion is situated at the northeastern tip of Santa Cruz Island, one of the primary islands in the Galapagos Archipelago. The archipelago itself lies over 900 kilometers (about 560 miles) west of continental Ecuador, in the Pacific Ocean. This strategic location places Punta Carrion as a gateway between the larger central islands and the outer, less-visited islands, making it an accessible dive site for many liveaboards traveling through the Galapagos Marine Reserve.
About Punta Carrion Liveaboard Diving
Divers at Punta Carrion are often greeted by playful sea lions and large schools of fish.
The Galapagos Islands have a rich history steeped in scientific discovery. It was here that Charles Darwin developed his theory of evolution by natural selection. Punta Carrion and the surrounding waters are part of this legendary archipelago that continues to be a living laboratory for scientists and a natural treasure for divers.
The dive site is near the Itabaca Channel, a small passage that separates the islands of Santa Cruz and Baltra, where one of the Galapagos' two airports is located. Due to its proximity to this channel and the central islands, Punta Carrion serves as a popular first or last dive for liveaboard itineraries in the region, offering divers a gentle introduction or a memorable conclusion to their Galapagos diving adventure.
It's not uncommon to encounter eagle rays gliding elegantly through the water, while hammerhead sharks often make an appearance in the blue at Punta Carrion liveaboard. Turtles, marine iguanas, and colorful reef fish are regular residents of this dive site. It's a photographer's paradise, with the clear waters providing excellent visibility for capturing the vibrant underwater scenes.
Best Time to Dive
The Galapagos Islands, including Punta Carrion, can be dived all year round. However, the best visibility and warmest water conditions are typically from December to May. This period also coincides with the mating season of various marine species, making it an excellent time for underwater photography.
Opting for a Punta Carrion liveaboard trip means you'll have the chance to dive at times when the day boats aren't around, giving you a more peaceful interaction with the diverse wildlife. Additionally, liveaboards often include night dives, which can be a surreal experience at Punta Carrion as you watch the nocturnal creatures come to life.
Conservation Efforts
The Galapagos National Park strictly regulates diving to ensure the protection of its unique ecosystem. By choosing a Punta Carrion liveaboard, divers often contribute to conservation efforts as these operators are typically involved in sustainable tourism practices that help fund marine conservation.
The area around Punta Carrion is characterized by a dramatic mix of volcanic landscapes, nutrient-rich waters, and diverse marine habitats, which contribute to its abundance of marine life and its importance within the Galapagos National Park and UNESCO World Heritage site.
A Punta Carrion liveaboard journey is an invitation to witness the raw and unfiltered beauty of one of the most pristine marine environments on earth. Whether you're gliding alongside a hammerhead shark or watching the comical dance of a sea lion, diving here reminds us of the vastness and mystery of the ocean. It's an unforgettable experience that every diver should aspire to.