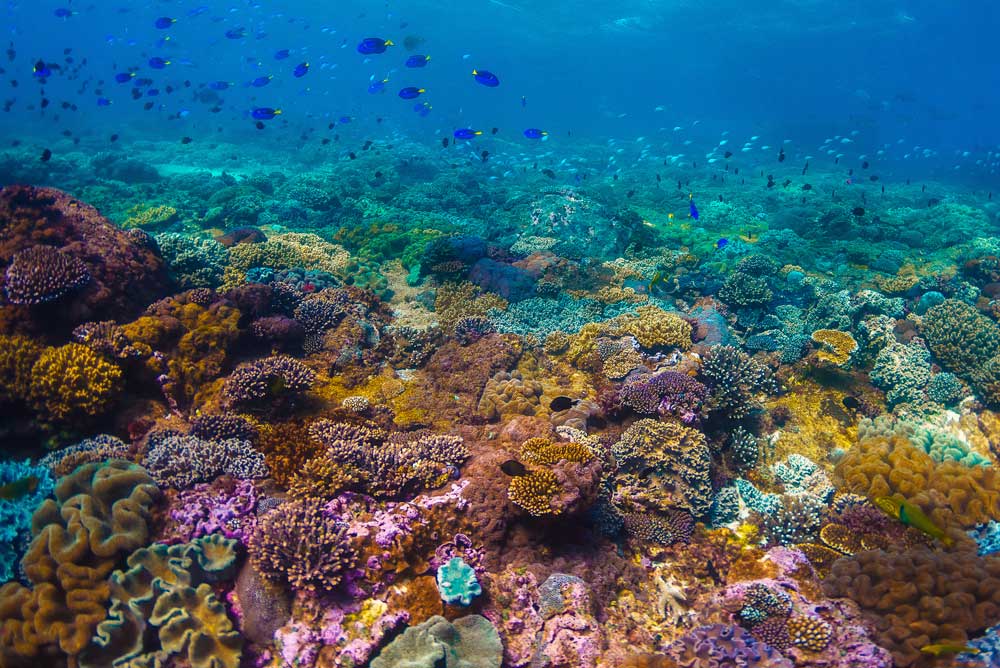 Great Barrier Reef Liveaboard Diving in Australia
The Great Barrier Reef in Australia is not just a reef; it's a sprawling coral kingdom that stretches over 2,300 kilometers. Known for its mesmerizing colors, diverse marine life, and exceptional diving spots, this UNESCO World Heritage Site is on every diver's bucket list.
When you choose to explore the Great Barrier Reef through a liveaboard, you elevate your diving experience to a whole new level. Liveaboards in Great Barrier Reef offer you the luxury and convenience of having everything you need at your fingertips, literally living on the water as you explore one incredible dive site after another.
Immerse yourself in the breathtaking world beneath the waves and discover what makes the Great Barrier Reef a destination like no other. Happy diving!
About Great Barrier Reef Liveaboard Diving
The Great Barrier Reef has been around for roughly 500,000 years, but its current structure is estimated to be 6,000 to 8,000 years old.
The Indigenous peoples of Australia have lived alongside the reef for thousands of years, incorporating its riches into their cultural stories and livelihoods. It's not just a dive site but a living testament to the complex and long-standing relationship between nature and humans.
Great Barrier Reef dives sites are extensive and withouth a shadow of a doubt too many to even consider talking about. However, there are a special number of these dive sites that are worth mentioning and frequently visited by all the Great Barrier Reef liveaboards.
Let's talk about some of the must-visit dive sites, starting with Osprey Reef. Located far from the coast, Osprey Reef is a submerged atoll that offers wall dives plunging to enormous depths. It's a unique experience filled with spectacular marine life, including grey reef sharks and hammerheads. None many such options for a Great Barrier Reef liveaboard.
Then there are the Ribbon Reefs, a series of ten individual reefs that provide an array of experiences from drift dives to swim-throughs. Here you might encounter dwarf minke whales in the winter months and marvel at the colorful coral gardens.
Milln Reef and Flynn Reef are closer to the Cairns marina, approximately 60 kilometers away, making them accessible yet equally captivating. Milln Reef offers swim-throughs and caverns, providing a playground for beginner and advanced divers alike. Flynn Reef is known for its vibrant coral gardens and schools of pelagic fish. If you're looking for something more thrilling, Cod Hole is your go-to place to see the giant potato cod, a friendly creature that often comes close to divers.
Lizard Island serves as a gateway to far-northern dive sites and offers an array of sandy beaches and blue lagoons. North Horn on Osprey Reef is where you can experience shark feeding—a controlled and safe way to observe these magnificent predators up close. Bougainville Reef is known for its deep walls and caverns, providing a slightly challenging but rewarding dive. Lastly, if you're into wreck diving on an Australian liveaboard, don't miss the SS Yongala Wreck, one of the best wreck dive sites globally. This 100-year-old shipwreck sits near Townsville and offers an unforgettable diving experience, swathed in corals and teeming with marine life in the Great Barrier Reef liveaboard.
In terms of water temperatures for a Great Barrier Reef liveaboard, expect a warm, tropical climate. Water temperatures usually range between 24 to 30 degrees Celsius (75-86 degrees Fahrenheit). Depths vary depending on the dive sites, ranging from shallow lagoons that are perfect for beginners to deep walls that go down hundreds of meters, suited for experienced divers.
When To Go To Great Barrier Reef?
Great Barrief Reef liveaboard diving is truly suitable all year round. This makes for an easy choise for divers planning their Australian liveaboard trips. However, the best time to visit the Great Barrier Reef is considered to be from June to November, as the weather is cooler, and the water visibility is at its best.
Manta rays and hammerheads visit the Coral Sea from April to September. Minke whales make an appearance during June and July. Coral spawning occurs in November or December.