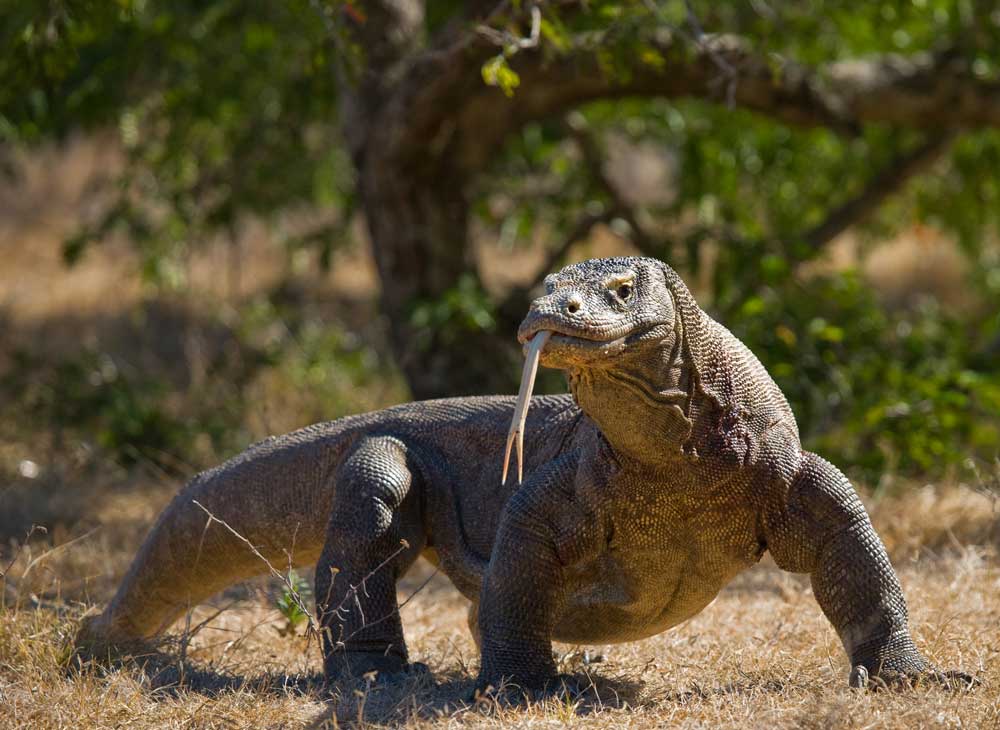 Komodo National Park Liveaboard Diving: A Unique Experience
Discover an underwater paradise at Komodo National Park, a UNESCO World Heritage Site that is renowned for its stunning biodiversity both above and below the water.
This natural wonder encompasses the three major islands of Komodo, Padar, and Rinca, as well as numerous smaller islands. While the Komodo dragon might be the region's most famous resident, the marine life surrounding these islands is equally captivating, offering an unforgettable diving experience.
About Komodo National Park Liveaboard Diving
The landscapes of Komodo National Park vary dramatically from rugged hillsides of dry savanna and pockets of thorny green vegetation to brilliant white sandy beaches framed by crystal-clear turquoise waters.
Komodo National Park, located in the Lesser Sunda Islands of Indonesia, is a stunning 1,733 square kilometer marine reserve that also includes Komodo, Padar, and Rinca islands, among many others. Established in 1980 initially to protect the habitat of the Komodo dragon, the world's largest lizard, the park's scope was later expanded to protect its entire biodiversity, both marine and terrestrial. It was declared a UNESCO World Heritage Site in 1991 and is also a part of the Coral Triangle, which contains some of the richest marine biodiversity on Earth.
The underwater world is even more mesmerizing, with over 260 species of coral and 1,000 species of fish, not to mention the dolphins, whales, and endangered green turtles that are often sighted.
Although remote, the park is accessible by air and sea. Labuan Bajo is the main gateway, offering flights to and from several major Indonesian cities. From there, it's a boat ride into the park, with options ranging from day trips to luxurious liveaboards.
The Komodo National Park dive sites are diverse and numerous which provides a unique diving experience compared to a lot of the world's best and most popular liveaboard destinations. Onboard a Komodo National Park liveaboard divers will experience a standard 3-4 dives per day, the 4th dive typically being a night dive when and where possible.
Komodo National Park Dive Sites
Batu Bolong: Batu Bolong is a unique dive site characterized by a towering rock pinnacle that rises out of the water's surface. Depths here range from 5 to 30 meters, making it suitable for intermediate to advanced divers. The water temperature hovers between 26 to 28°C, which is fairly comfortable for most. One of the distinctive aspects of Batu Bolong is its strong currents, which also contribute to its rich marine life. These currents bring in nutrients that attract an array of aquatic species, from vibrant soft and hard corals to predatory fish like giant trevallies and tunas. On special occasions, divers might even catch a glimpse of a shark.
Crystal Rock: Not far from Castle Rock, Crystal Rock provides divers with another unforgettable underwater experience. The site, named for its incredibly clear waters, has depths ranging from 10 to 35 meters and water temperatures from 25 to 28°C. Intermediate-level divers will find Crystal Rock a visual treat, with its orange soft corals, expansive sea fans, and vibrant anemones. The marine life here is equally captivating, featuring creatures like cuttlefish and sweetlips. If you're exceptionally lucky, you may even encounter dolphins.
Castle Rock: Castle Rock is located in the north of the Komodo archipelago and is known for its challenging conditions. With depths from 4 to 30 meters and water temperatures around 26 to 28°C, this site is recommended for advanced divers due to its strong currents. However, those strong currents also make for an incredibly vibrant underwater landscape. Massive schools of fusiliers and barracudas are commonly seen swirling around the rock formation, and divers can often spot grey reef sharks patrolling the area.
Manta Point: Manta Point is an iconic dive spot where you can expect to see manta rays gliding gracefully through the water. The site serves as a cleaning station for these majestic creatures, who come to have parasites and dead skin removed by smaller fish. With depths of up to 20 meters and water temperatures ranging between 26 to 28°C, it's accessible to divers of various skill levels.
Cauldron: Also known as "The Shotgun," Cauldron is an exhilarating dive site featuring a narrow channel between two islands. As the tide moves in or out, water gets pushed through this channel, creating a "shotgun" effect that can propel divers along at a rapid pace. The depth ranges from 15 to 30 meters and the water temperature varies between 26 to 28°C. Due to the intense currents, this site is recommended for more experienced divers.
Tatawa Besar: Tatawa Besar offers an exquisite drift dive along a gently sloping reef covered in soft corals. The site ranges in depth from 5 to 30 meters and features water temperatures around 26 to 28°C. The site is accessible for all levels of divers and is particularly famous for its colorful soft corals and sea fans. Marine life includes an array of tropical fish, stingrays, and the occasional turtle.
Other popular dive sites frequently visited by Komodo liveaboards are: Manta Alley, Cannibal Rock, Tatawa Kecil, Siaba Kecil, Mawan, Turtle City, Police Point.
The water temperature in Komodo generally ranges between 26-28°C (79-82°F), though colder currents can bring it down to 23°C (73°F) in certain areas.
Komodo diving is not the only attraction here. A unique aspect of the liveaboards in Komodo National Park are the trekkings and things to see and do above the water so here's a couple of the stops all the liveaboards do:
Trekking on Padar Island: This island offers one of the most breathtaking panoramas in Indonesia which has also become the iconic image of Komodo. A 30-minute hike will take you to a viewpoint overlooking the three stunning bays of Padar.
Visiting Pink Beach: Part of the very few similar pink beaches around the world, the Pink Beach in Komodo National Park is a worthy stop for instagram pictures.
Komodo Dragons: Nobody can speak about the Komodo National Park without mentioning the Komodo dragons. They can be seen on either Rinca or Komodo islands although visiting Komodo Island allows a more natural habbitat experience with the Komodo dragons.
From trekking scenic landscapes to diving in some of the world's most diverse waters, Komodo National Park offers something for every adventurer. Book your journey today!
When To Go To Komodo National Park?
The best time to visit Komodo is between March and December during the dry season. This is when the water conditions are also at their best, minimum winds, minimum waves and great underwater visibility.
Ironically, during the wet season of January - February - March it's when divers can experience the Manta Ray migration, diving in Manta Point or Mawan with even 100 of these graceful creatures.
However, although there are liveaboards or day trips who still operate during the wet season, the conditions are unpredictable and dive plans often require adjustments.
The closest airport to Komodo National Park is Komodo Airport, also known as Labuan Bajo Airport (LBJ). From the airport to the Labuan Bajo marina where most liveaboards depart from, there's a short 10 minutes car ride. Flights to and from Labuan Bajo are frequent but keep an eye on domestic flights as Indonesian airlines are notorious for delays or last minute cancellations.