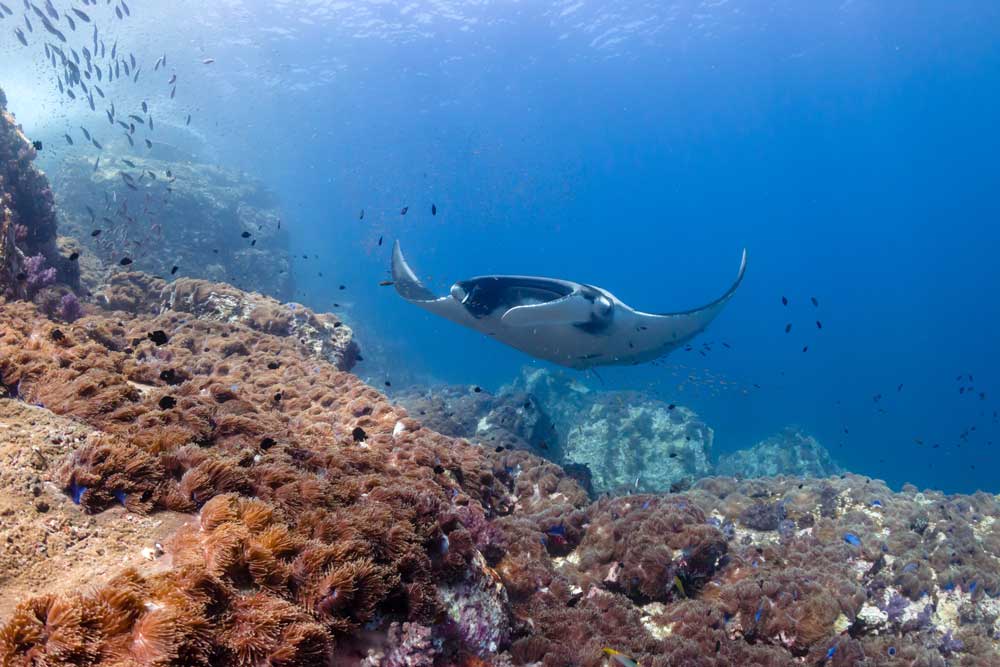 Komodo Liveaboard Diving. The Jewel of Indonesia
For any diver who ever thinks of diving in Indonesia, it is guaranteed Komodo is on the top of the list. The amazing Komodo National Park provides some of the best diving Indonesia has to offer with a variety of underwater marine life and stunning coral reefs.
Underwater and above the water, liveaboards in Komodo have a lot to offer. Manta Rays, Sharks, exciting currents, and let's now imagine the Komodo dragons alongside the beautiful islands and their scenery. A perfect combination of diving and travel holiday.
About Komodo Liveaboard Diving
If you are a diver and you plan to visit Komodo, choosing a Komodo liveaboard is the best way to explore the national park.
Underwater Komodo is famous for strong currents which sets the tone for mostly experinced divers who can truly enjoy the best dive sites such as Batu Bolong, Crystal Rock or Manta Alley. But the beginner divers should not be discouraged as Komodo offers something for everyone and there are plenty of dive sites that can provide incredible memories such as Manta Point, Turtle City and others with friendlier underwater conditions.
The dives in Komodo National Park are not deep, typically at anywhere between 15 and 30 meters (49-98 feet) but although some dives may be shallow, currents are often unpredictable and depending on the moon cycles, most dives can turn to be drift dives more than anything.
When it comes to marine life, prepare to be amazed. Manta Rays are an every day thing in dive sites such as Manta Point, Mawan and Manta Alley. Sightings of sharks feeding, countless turtles, diverse tropical marine life and coral reef that looks like it was just discovered. The more lucky divers can experience spotting dolphins underwater and sometimes even whale sharks or dugong.
Komodo Dive Sites
The liveaboards in Komodo offer different itineraries ranging between 3 and 8 nights, some even longer combining with itineraries such as Alor. Nonetheless, diving with a Komodo liveaboard will take you to the best of the dive sites of Komodo.
Manta Point, Mawan, Manta Alley
Komodo is famous for Manta sightings. These three dive sites offer high chances to spot the amazing Manta Rays. Worth noting is that Manta Alley is located in the deep south side of the national park where water conditions can often be unpredictable and although liveaboards plan to visit the dive spot, they may sometimes have to turn back due to big waves.
Batu Bolong
Perhaps the most desired dive site in Komodo, Batu Bolong is a hollow rock standing out of the water where coral reef is the main attraction. Underwater life is in abundance with tons of reef fish, sharks, dolphins, always playing around. Do not miss this dive site.
Crystal Rock, Castle Rock
Two similar dive sites located in the north of Komodo island, they are known for strong currents and large schools of fish. Two must do dives for spotting trevallies, reef sharks and dolphins.
We have now only mentioned some of the best of the best but do not make the mistake of staying on the boat if you know your liveaboard is stopping at Shotgun, Tatawa Besar, Sebayur, Police Corner, or Turtle City.
Things To Do in Komodo
Komodo liveaboard diving is the main attraction but almost all liveaboards take advantage of what the national park has to offer. Don't skip the hiking on Padar Island or Gili Lawa, visiting Pink Beach and of course, walking and taking a photo with the Komodo dragons on Komodo or Rinca islands.
When To go?
Komodo is best to visit during the months of March to September during the dry season although up to December divers will experience continous excellent diving.
Ironically, the wet season starting in December up to February is also the best time to visit for spotting the migration of Manta Rays. Imaging swimming to 50 mantas at the same time.
It is safe to say that Komodo diving is suitable all year round but the wet season brings unpredictable weather.