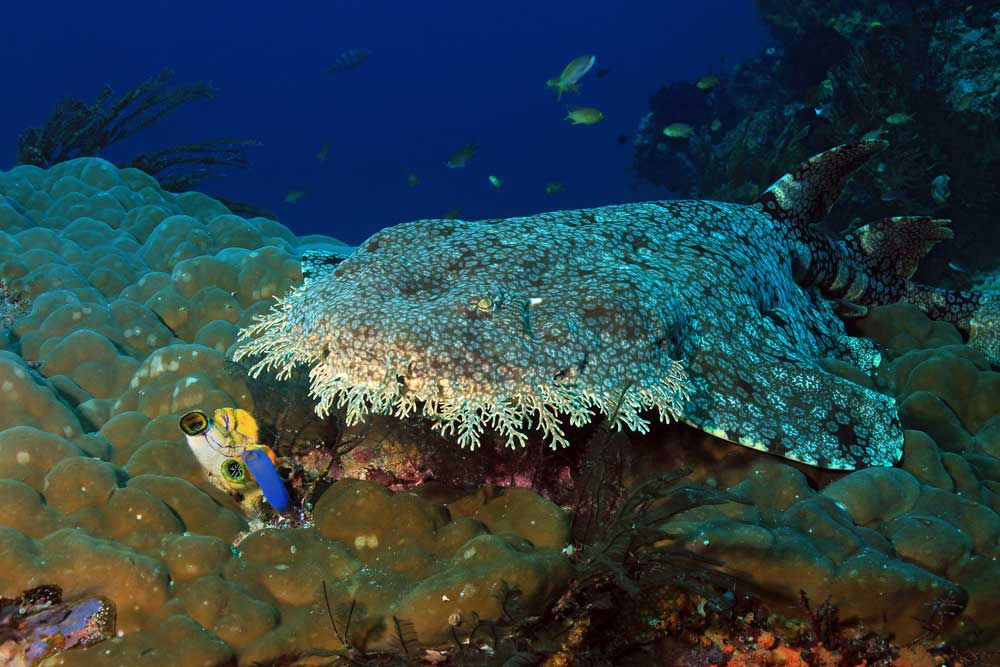 Raja Ampat Liveaboard Diving: The Ultimate Underwater Expedition
Dive into the heart of the Coral Triangle with a Raja Ampat liveaboard diving experience!
Offering unrivaled marine biodiversity, stunning underwater landscapes, and crystalline waters, a liveaboard trip in Raja Ampat is a must for every avid diver.
Raja Ampat, or the "Four Kings," comprises over 1,500 small islands, cays, and shoals enveloping the big islands of Misool, Salawati, Batanta, and Waigeo. Opting for a liveaboard allows divers to explore more secluded and pristine dive sites, providing a comprehensive Raja Ampat experience.
About Raja Ampat liveaboard diving
Raja Ampat, one of Indonesia most prestine liveaboard diving destination.
Raja Ampat is a diver's dream. From pygmy seahorses to majestic manta rays, the biodiversity is unmatched. Expect to see schools of trevallies, barracudas, and even the elusive wobbegong shark. The coral gardens are a riot of colors, home to myriad fish species, mollusks, and crustaceans.
Diving Areas & Prime Dive Sites
Raja Ampat is divided into three main parts, each with it's own beauty and features: North, Central and South. Almost any of the Raja Ampat liveaboards will organize weekly trips alternating between these areas. The typical duration for a Raja Ampat liveaboard is 8 days 7 nights but some of the larger luxurious liveaboards offer extended safaris up to 12 days 11 nights.
Raja Ampat North: Waigeo
Liveaboards who travel to the north part of Raja Ampat typically include an itinerary that stops through the Central part as well. Waigeo is the largest of the four main islands of Raja Ampat. Its location offers a wide array of dive sites suitable for divers of all experience levels.
Melissa's Garden: An array of colors, this expansive coral plateau is a favorite among underwater photographers and a must visit dive site.
The Passage: This narrow strait between Waigeo and Gam Islands offers a spectacular canyon dive, revealing a fascinating interplay of light and shadow.
Sardine Reef: An undersea pinnacle, teeming with fusiliers, trevallies, and barracudas, often forming bait balls.
Raja Ampat Central: Batanta
Batanta, while smaller compared to its counterparts, is known for its muck diving sites, providing a unique opportunity for macro enthusiasts. But don't get fooled as large marine life are teeming everywhere
Happy Ending: With a gentle slope and sandy bottom, divers can find a diverse array of critters, including nudibranchs, ghost pipefish, and more.
Algae Patch: Named for its dense algae cover, this site offers sightings of unique critters that thrive in such an environment.
Dayang's Delight: This site offers beautiful coral formations and is home to a diverse range of marine life from pygmy seahorses to playful clownfish.
Raja Ampat South: Misool
Arguably the jewel in the crown of Raja Ampat's diving experience, Misool offers some of the archipelago's most vibrant and lively reefs. Due to its remote location, Misool can be accessed only with a Raja Ampat liveaboard. The remote location combined with strict rules that control the diving operations here, protects Misool from the typical overcrowded dive sites. Misool is without a doubt an off the beaten tracks trip.
Magic Mountain: A submerged pinnacle attracting pelagic species. Expect encounters with manta rays, sharks, and schools of jack.
Boo Windows: Easily recognizable by the "windows" eroded into the rock, divers can swim through and explore vibrant soft corals and large gorgonians.
Nudi Rock: Named for its resemblance to a nudibranch, it's a smaller site but bursting with marine life, including the namesake nudibranchs in various colors and sizes.
Shadow Reef (aka Gililawa Laut): Known for frequent manta ray sightings, this cleaning station also attracts sharks, barracudas, and batfish.
Of course, Raja Ampat liveaboard diving has a lot more to offer and we can name some of the other popular dive sites which are part of any liveaboard's itinerary: Chicken Reef, Blue Magic, Manta Sandy, Sawandarek Jetty, Citrus Ridge, Arborek, Mioskon, Cape Kri
The diving conditions in Raja Ampat are ideal in the right season of October to April. Dive sites in Raja Ampat typically range from 10 to 40 meters depth with comfortable water temperatures around 27°C to 30°C (80℉-86℉).
After April, when Raja Ampat is off-season, all of the Indonesia liveaboards are moving to Komodo National Park.
When To go?
Raja Ampat liveaboard diving is ideal all year around but the best season is between the months of October to April when the weather is typically dry and the water conditions at their best.
Some liveaboards offer expanded trips startign September that begin from Ambon, Banda Sea passing through Triton Bay and Misool, finishing in Sorong or Waisai.