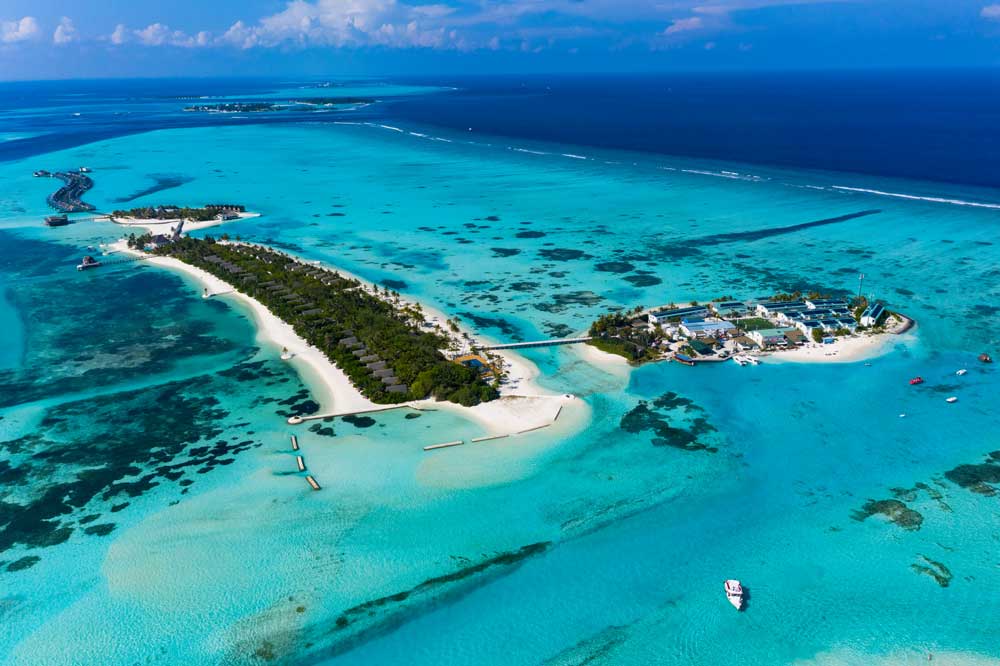 South Male Atoll Liveaboard: An Underwater Realm in the Heart of Maldives
Delve deep into the pristine waters of South Male Atoll liveaboard diving, a coveted diving destination situated conveniently close to the Maldivian capital of Male. Whether you're an experienced diver or taking your inaugural plunge, the atoll offers unparalleled underwater experience, teeming marine life, and crystal-clear visibility. Get ready to immerse yourself in an extraordinary aquatic journey.
The South Male Atoll liveaboards are all about channel dives. As with all channel dives, rising and falling currents bring different types of marine life. South Male Atoll however is famously known for spotting reef sharks which makes it a popular stop for all Maldives liveaboards.
While the Maldives liveaboards visiting South Male Atoll provide multiple durations for the trips, the most popular is the 8 days 7 nights itinerary with one day of 3-4 dives is spent here in the South.
About South Male Atoll Liveaboard Diving
South Male Atoll offers more than just dive sites; it's an enthralling underwater universe waiting to be explored. With its close proximity to Male and an array of dive sites suited for all skill levels, it's a must-visit on any diver's itinerary.
While diving is available throughout the year, the peak season runs from November to April. During these months, the sea conditions are at their calmest, and underwater visibility can extend up to 30 meters. As with most of the dive sites in Maldives, water temperatures typically vary between 26-30°C (79-86°F).
The dive sites frequently visited by South Male Atoll liveaboards offer a range of depths, between 15 and 40 meters, to cater to every diver's comfort and expertise level. It is highly recommended to check carefully the itinerary of your chosen Maldives liveaboard operator to ensure the types of dives they are typically doing.
South Male Atoll is an aquatic treasury the same as the popular North Male Atoll. Expect encounters with grey reef sharks, hammerhead sharks, barracudas, and sea turtles, to name just a few.
South Male Atoll Dive Sites
Embudhoo Kandu, known for its exhilarating channel dives and powerful currents. Depths here range between 20 to 30 meters and are most suitable for advanced divers. This site offers an opportunity to witness grey reef sharks and schools of fusiliers cutting through the current.
Guraidhoo Kandu South, a perfect blend of soft and hard corals scattered along the ocean floor. Depths here vary between 18 to 30 meters and are suitable for divers of all skill levels. The site is famous for encounters with barracudas and even the occasional hammerhead shark.
Kuda Giri Wreck offers a thrilling experience for wreck dive enthusiasts. Sunk at a depth of approximately 30 meters, this wreck is home to an array of exotic marine life, including colorful nudibranchs and glassfish. The site is accessible to intermediate and advanced divers, and it adds a touch of mystery to the whole underwater escapade.
Kandooma Thila is a submerged pinnacle providing depths ranging from 20 to 30 meters. The top of the pinnacle is covered with vibrant soft corals, providing a spectacular view for underwater photographers. This site is recommended for intermediate to advanced divers and is especially popular for spotting grey reef sharks and large schools of jackfish.
Last but certainly not least, Cocoa Thila is a large submerged reef that's a hot spot for pelagic species. With depths ranging between 15 and 30 meters, the site is accessible for intermediate divers. Cocoa Thila is renowned for the diverse range of marine life, from manta rays to schools of tuna, making each dive an entirely unique experience.
When To Go To South Male Atoll?
Scuba diving in Maldives is an all year round activity. Even during the more rainy months such as August or September, divers will get the maximum of what Maldives has to offer with little effects on visibility or marine life.
The best season for Maldives and of course the South Male Atoll is between November and April, mainly because of the overall better sea conditions with less waves. However, this is also the period when the liveaboards are at their most busiest which sometimes makes dive sites quite crowded.