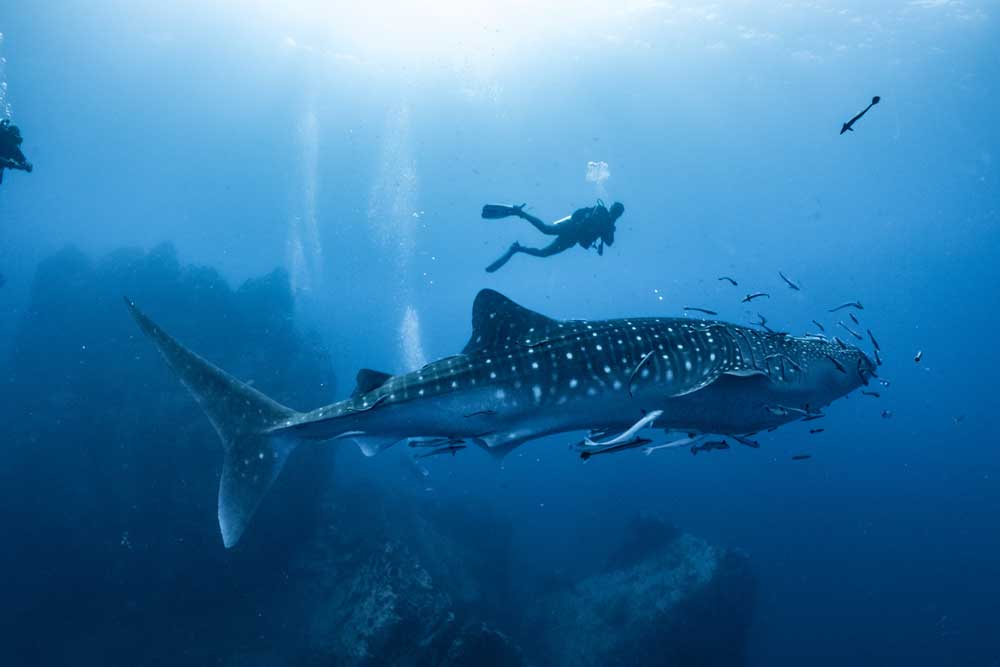 Ari Atoll Liveaboard Diving in the Maldives
The Maldives, a tropical paradise nestled in the Indian Ocean, comprises 26 natural atolls, each boasting its unique character and charm. Among these, Ari Atoll liveaboard diving stands out, not just for its stunning beauty but also for its rich diving heritage.
Historically known as Alif Atoll, Ari Atoll spans approximately 89 islands, 20 of which are inhabited. It's situated about 80 km west of Malé, the bustling capital of the Maldives, renowned for its vibrant markets, historic mosques, and unique blend of cultures.
Immerse yourself in the breathtaking world beneath the waves and discover what makes the Great Barrier Reef a destination like no other. Happy diving!
About Ari Atoll Liveaboard Diving
Ari Atoll, bathed in the aquamarine hues of the Indian Ocean, has more to offer than just its postcard-perfect landscapes. Below its shimmering surface lies a marine world of unparalleled splendor.
Ari Atoll, also known as Alif or Alifu Atoll, is one of the most prominent atolls in the Maldives, and it boasts a rich tapestry of natural beauty, history, and cultural significance. The atoll is divided into two sections for administrative purposes: North Ari Atoll (Alifu Alifu Atoll) and South Ari Atoll (Alifu Dhaalu Atoll).
The underwater world of Ari Atoll liveaboard is a major draw for snorkelers and divers from around the globe. The diverse marine life includes manta rays, whale sharks, various species of tuna, and a vibrant array of coral reefs. The Ari Atoll dive sites are renowned for their underwater attractions, but beyond these popular sites, the atoll's lagoons and outer reefs offer countless opportunities for exploration. The islands are adorned with white sandy beaches and are surrounded by crystal-clear waters, making them ideal for beach lovers and water sports enthusiasts.
Given its marine biodiversity, there's a significant emphasis on marine conservation within Ari Atoll. Several areas, like Maamigili, have been designated as Marine Protected Areas (MPAs) to ensure the sustainability of marine life, particularly whale sharks.
Here's a deeper look at its iconic dive sites of Ari Atoll liveaboard diving:
Maaya Thila: Often referred to as the "White Tip Capital", Maaya Thila offers divers the unrivaled experience of night diving and day diving. As the sun sets, the thila (an underwater mountain) becomes a hub for white tip sharks and moray eels. During the day, divers might stumble upon nudibranchs, frogfish, and the beautifully elusive ghost pipefish.
Donkalo Thila: Known for its exceptional cleaning stations, here, divers can watch the hypnotic dance of manta rays as they circle around, allowing cleaner fish to rid them of parasites. You might even find nurse sharks lazily lounging on the sandy seabed.
Fish Head (Mushimasmingili Thila): This dive site is a protected marine area and is a haven for grey reef sharks. The topography here is unique, featuring caves and overhangs adorned with soft corals. Large schools of fusiliers, snappers, and jacks are commonly spotted.
Rasdhoo Atoll: Located northeast of Ari Atoll, Rasdhoo is a magnet for those chasing the thrill of spotting hammerhead sharks. The early morning dives, in particular, give a higher chance of sightings, as these magnificent predators come up from the deep to the shallower waters.
Maamgili: A favorite among snorkelers and divers alike, Maamgili is the Maldives' whale shark hotspot. The South Ari Atoll Marine Protected Area, which includes Maamgili, ensures that these gentle giants can roam safely.
Fesdu and Halaveli: Diving here feels like entering an underwater festival. The wrasse-cleaning stations attract barracudas, while the overhangs offer refuge to schools of sweetlips and batfish. Halaveli's famous wreck dive is also a magnet for underwater photographers.
Kudarah Thila: This dive site, another protected marine area, showcases nature's art gallery. The thila is blanketed in soft corals of every hue, creating a backdrop for anthias, butterflyfish, and the odd turtle.
While most of the dive sites of Ari Atoll liveaboards are perfectly suitable for beginner divers, there are specific dive spots that require higher experience and sometimes even negative entry skills.
Water temperatures around the Ari Atoll liveaboard typically fluctuate between 26°C to 29°C, providing comfortable dives throughout the year. Visibility can reach up to 30 meters during the dry season, offering crystal clear views of the vast marine life.
When To Go To Ari Atoll?
While Maldives beckons divers throughout the year, the peak diving season in Ari Atoll, marked by the northeast monsoon, stretches from December to May. These months promise calm seas, clear skies, and the best underwater visibility.
Typically the manta rays are most encountered during August to November but Maldives is a special place because it provides manta sightings all year round. It is hard not to see a manta ray in Ari Atoll liveaboard.