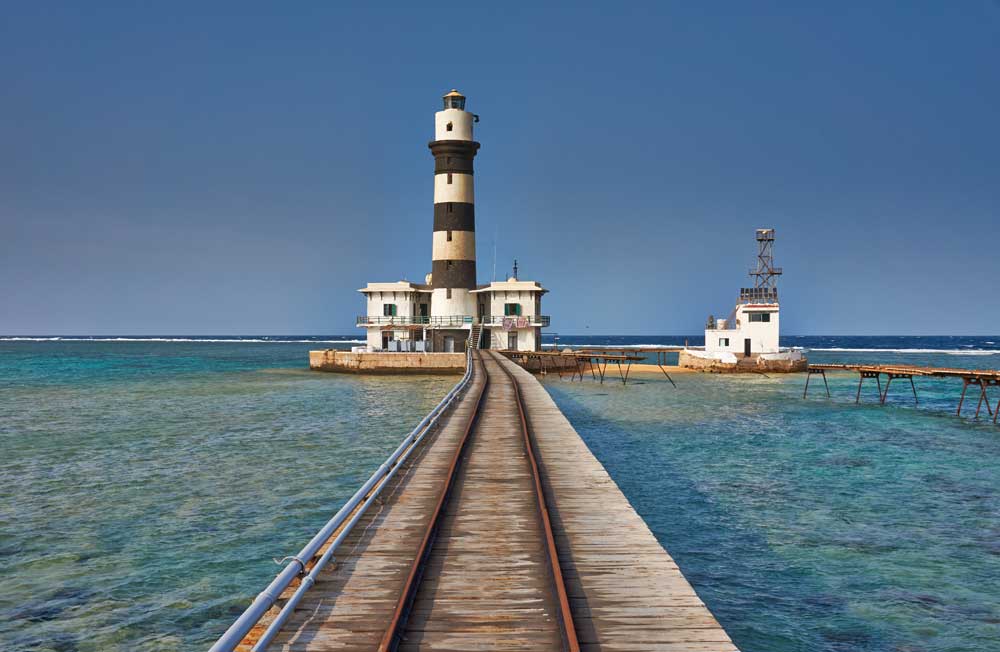 Daedalus Liveaboard Diving in the Red Sea
Discover the underwater treasures of Daedalus Reef in the Egyptian Red Sea. This remote reef, situated about 90 km from the mainland, offers some of the most stunning diving experiences in the world. From its vibrant marine life to its intricate coral formations, Daedalus is a diver's paradise.
Daedalus liveaboard diving is home to a several different dive sites, each offering a unique underwater experience. At the North Plateau, divers can explore a sloping reef that descends into the depths of the sea, maxing out at around 40 meters. The South Plateau provides a more dramatic seascape, featuring a sheer wall that plunges down to 60 meters, adorned with soft corals and gorgonian fans.
From its rich biodiversity to its varied dive sites, Daedalus liveaboard in Egypt is a must-visit for diving enthusiasts. Whether you're an amateur diver or a seasoned veteran, the reef promises an underwater adventure you'll never forget.
About Daedalus Liveaboard Diving
Discover Daedalus liveaboard in the Egyptian Red Sea. Learn about its best dive sites, what to see, water temperatures, best times to visit, and how to arrive in Egypt and Daedalus for your liveaboard adventure.
Daedalus is part of the itineraries of most Egypt liveaboards which makes it one of the top diving spots impossible to miss.
The marine life at Daedalus is diverse and abundant. From May to July, hammerhead sharks frequent the area, especially around the North Plateau. Thresher sharks are a rarer sight but equally mesmerizing when spotted. Daedalus liveaboard is also a playground for manta rays, especially during the warmer months. Among the rich coral formations, divers can spot all the tropical marine life that divers imagine to see with most common sightings of White, Black and Grey Tip sharks. The reef is also a haven for macro life, including rare crustaceans and mollusks.
Red Sea water temperatures at Daedalus range from 22°C (71°F) in winter to 30°C (86°F) in summer. The best time for diving is from March to November, offering optimal visibility and the chance to encounter a wider range of marine life.
Choosing the optimal time to experience the underwater wonders of Daedalus Reef in Egypt can significantly impact the quality of your diving adventure. While Daedalus is a year-round diving destination, each season offers a unique spectacle.
When To Go To Daedalus?
Daedalus boasts remarkable water visibility year-round, ranging from 20 to 40 meters (65 to 131 feet). However, visibility is often at its peak from March to November, coinciding with warmer water temperatures.
If spotting schools of hammerhead sharks is on your bucket list, plan your liveaboard adventure from May to July. These majestic creatures are commonly sighted around the North Plateau during these months.
For a rarer but equally captivating encounter with thresher sharks and manta rays, consider visiting between June and September. This period coincides with the warmer water temperatures that these species prefer.