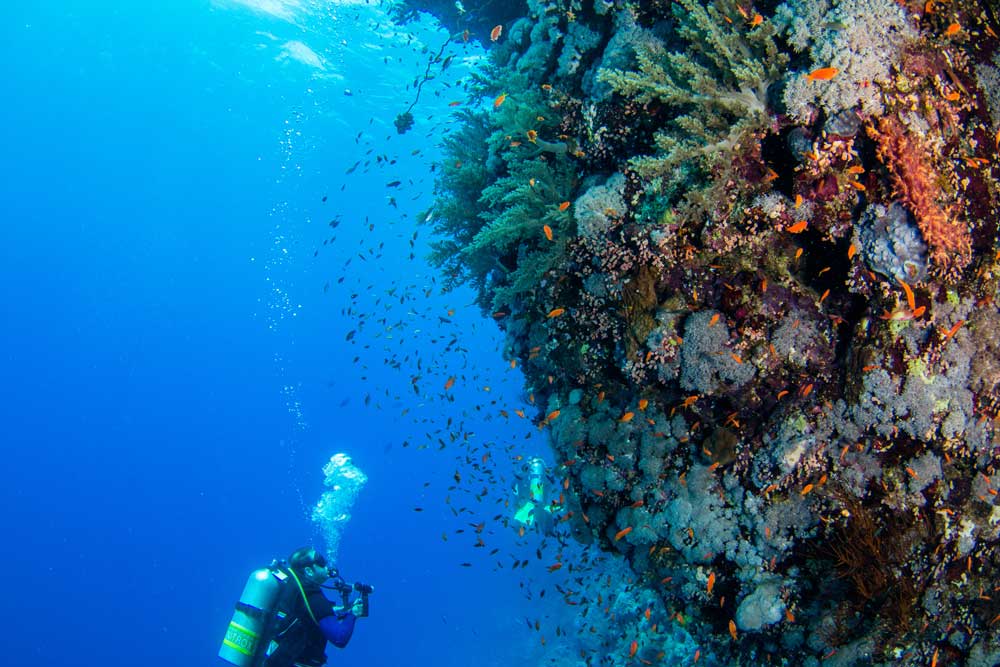 Elphinstone Liveaboard Diving in the Red Sea
Welcome to Elphinstone liveaboard diving, one of Egypt's hidden underwater gems, offering some of the most thrilling and awe-inspiring dive experiences in the world. Known for its vibrant marine life, deep walls, and swirling currents, this is a location that demands to be explored.
Elphinstone Reef, located in the Red Sea, boasts some of the most pristine coral gardens, dramatic walls, and abundant marine biodiversity. Its clear blue waters and warm temperatures make it an ideal diving destination for both beginners and seasoned professionals.
Elphinstone is situated approximately 30 kilometers (roughly 19 miles) to the north of Marsa Alam, Elphinstone Reef bears the name of the British Admiral George Elphinstone. This naming is a tribute to the Admiral's significant role in Egypt during the era of Napoleon Bonaparte.
About Elphinstone Liveaboard Diving
When you dive in Elphinstone, expect to see a variety of sea life. From big sharks like hammerheads and oceanic whitetips to beautiful coral gardens full of colorful fish, there's never a dull moment.
Elphinstone liveaboard is one of the most popular stops for all the Egypt liveaboards diving in the Red Sea, together with Daedalus and The Brothers
When it comes to larger sea creatures, the plateaus at both ends of the reef offer exciting encounters. In the colder months, you're likely to see oceanic whitetips and hammerhead sharks. During the warmer seasons, manta rays and formidable tiger sharks make more frequent appearances. No matter the time of year, Elphinstone is always full of marine life, making it an excellent place for diving.
Elphinstone is known for its unique diving spots. The North Plateau area is calm and flat, perfect for seeing different kinds of sharks and schools of barracuda. On the other hand, the South Plateau has strong currents and deep drop-offs, making it a thrilling spot for advanced divers. There's also a place called the Archway, which is a natural underwater tunnel. This spot is for skilled divers and it's a must-see if you have the right training.
North Plateau: The North Plateau ranges in depth from about 20 meters (approximately 66 feet) to 40 meters (around 131 feet), making it suitable for divers with varying levels of experience. This plateau is teeming with an array of marine life. Expect to see an abundance of reef sharks, including grey reef sharks, as well as schools of barracudas and snappers. Soft corals in various colors like pink, purple, and yellow are also prevalent. The area is known for its occasional sightings of hammerhead sharks, especially in the early mornings when they come to the shallower depths to feed.
The currents at the North Plateau of Elphinstone liveaboard diving tend to be relatively gentle compared to the South Plateau, making it a good option for less experienced divers or those looking for a more relaxed dive. However, it's always best to consult with your dive guide as conditions can change.
South Plateau: The South Plateau is deeper, starting at around 25 meters (approximately 82 feet) and dropping off sharply to over 70 meters (roughly 230 feet) in some areas. This plateau is more suited for advanced and technical divers. The more dramatic underwater landscape attracts bigger marine life. It's a popular spot for encountering oceanic whitetip sharks, especially in late fall. The plateau's strong currents also bring in schools of pelagic fish like tuna and trevally. Don't be surprised if you encounter the occasional manta ray gliding through the waters here.
The currents at the South Plateau can be strong and unpredictable, often resulting in a drift dive. These conditions make it an exhilarating experience for advanced divers, but it is generally not recommended for beginners or those uncomfortable with strong currents.
Both plateaus offer unique diving experiences and the chance to see a rich variety of marine life. Whether you're a novice eager to explore the wonders of the ocean or an experienced diver looking for a thrilling adventure, Elphinstone liveaboard North and South plateaus have something to offer you.
Elphinstone liveaboard water is warm all year round in the Red Sea, ranging from 72°F in the winter to 86°F in the summer. The water is clear too, with visibility up to 131 feet, making it ideal for underwater photography. The depth varies depending on where you are, so there's something for every level of diver.
When To Go To Elphinstone?
The best time to dive at Elphinstone is from April to November. If you're interested in seeing sharks, plan your trip between October and December.
A few tips for divers: be aware that Elphinstone can have strong currents, so make sure you're comfortable with that kind of diving. Early morning dives offer the best chance to see sharks. Always listen to your dive guides, and carry a safety marker and whistle.