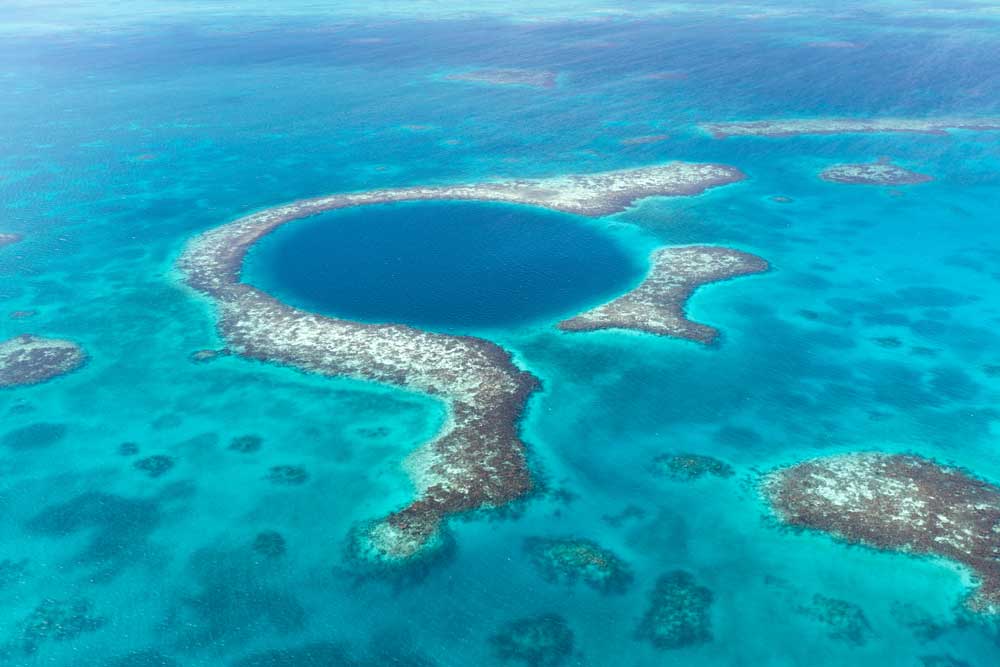 Discover Belize Liveaboard Diving - "Under the Shade I flourish."
Belize is a diver's paradise, and there's no better way to explore its underwater wonders than through liveaboard diving. With world-class dive sites at your doorstep, an impressive array of marine life to encounter, and warm tropical waters, Belize liveaboard diving offers an unparalleled experience you won't want to miss.
The cornerstone of diving in Belize has to be the Great Blue Hole. This underwater sinkhole is one of the most famous dive sites globally, and it offers a unique opportunity to explore ancient cave formations amidst deep blue waters.
Alongside the Blue Hole, you'll find other phenomenal dive sites like Half Moon Caye, known for its stunning wall dives, and Turneffe Atoll, which boasts over 70 different dive sites brimming with marine life.
About Belize Liveaboard Diving
The Magnificence of Belize Barrier Reef, the second largest reef system in the world.
Stretching over 180 miles (300 km), the Belize Barrier Reef is a living tapestry of coral and marine life and one of the main attractions for any Belize liveaboard. The reef is a playground for divers of all levels, offering dive sites with breathtaking drop-offs and astonishing coral formations. Here, you'll find yourself swimming alongside curious sea turtles, majestic stingrays, and schools of colorful fish, making each dive an adventure in biodiversity.
From the Belize Barrier Reef, our compass points our Belize liveaboard toward the Great Blue Hole, a gigantic underwater sinkhole that's one of Belize's crown jewels. Dive into this circular wonder, and you'll encounter ancient stalactites and limestone formations that date back thousands of years. The hole itself plunges to 400 feet (120 meters), but most recreational dives go to about 130 feet (40 meters), allowing divers to explore the deeper mysteries of this submerged cave of the Belize liveaboard diving.
Turneffe Atoll Reef adds a different flavor to Belize liveaboards. Spanning over 200 square miles (520 square meters), this atoll reef has more than 70 identified dive sites. From coral-covered walls to sandy bottoms that hide camouflaged sea critters like the elusive frogfish, the atoll is a hub of varied underwater landscapes. It's particularly well-known for its diverse macro life, making it an underwater photographer's paradise.
Another must-visit destination for divers onboar a Belize liveaboard is the Lighthouse Reef. Among its many renowned sites, Half Moon Caye is a standout, offering exceptional wall dives and the rare opportunity to encounter the endangered red-footed booby bird on land. Underwater, the area is rife with marine life like barracudas, groupers, and reef sharks, providing endless excitement for those who venture here.
Speaking of Half Moon Caye, this Belize liveaboard destination deserves a special mention. It's not just a part of Lighthouse Reef but a renowned dive site in its own right. You'll be entranced by the vertical walls, adorned with sponges and soft corals, where you might see a hammerhead shark or even a Caribbean reef shark if fortune favors you. The area is also recognized as a natural monument, reflecting its unique ecological significance.
Last but not least, Glover's Reef is the southernmost of Belize liveaboard three atoll reefs and is a UNESCO World Heritage Site. With fewer visitors, Glover's offers an exclusive Belize diving experience featuring an impressive range of marine biodiversity. From spotted eagle rays to nurse sharks, the atoll is a sanctuary for some of the ocean's most beautiful inhabitants.
When To Go To Belize?
The best diving conditions in Belize are found from November to April, during the dry season. Yet, even the wet season has its advantages, including fewer crowds and discounted liveaboard packages.
The whale shark season is typically during April to June.
Despite the rain, during the rainy season water temperatures are at their highest reaching 28 - 29 Celsius (82F - 84F).