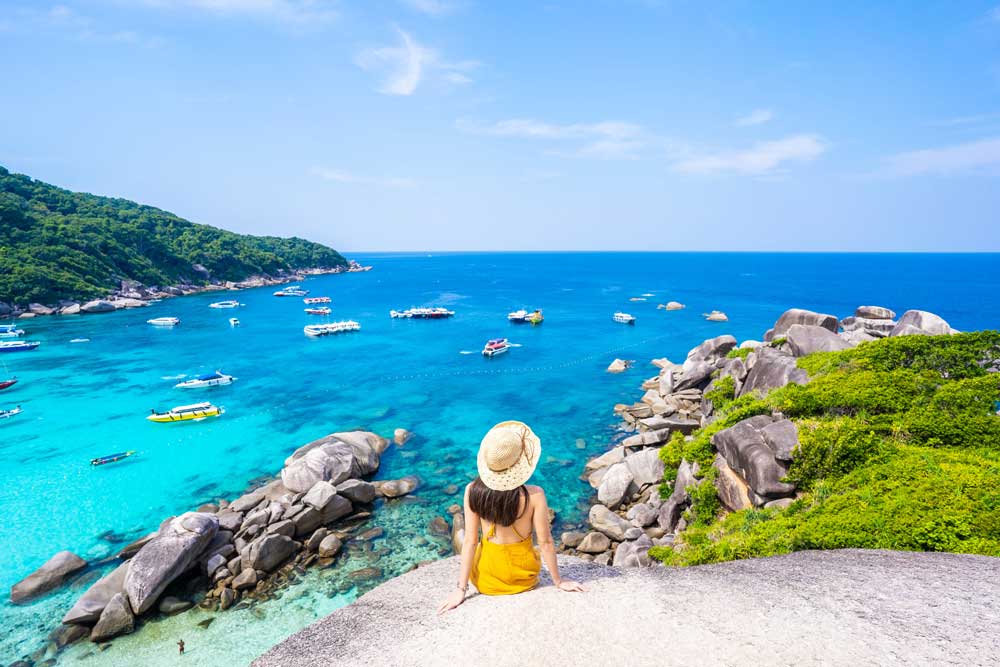 Similan Islands Liveaboard Diving: Unveiling the Secrets
Dive into the mystical beauty of the Andaman Sea with a Similan Islands liveaboard experience. Prepare for an unforgettable escapade amidst coral gardens, diverse marine life, and world-class dive sites like Anita's Reef and Elephant Head Rock.
Nestled off the coast of Thailand, the Similan Islands are an archipelago of 11 islands that make up a protected marine park. Known for their white sandy beaches, turquoise waters, and large granite boulders, the islands are a sublime playground for divers and ocean explorers alike.
The Similan Islands are an underwater zoo featuring a dazzling array of marine life. From coral gardens teeming with colorful reef fish to the larger species like manta rays, whale sharks, and leopard sharks, the biodiversity here is extraordinary.
About Similan Islands Liveaboard Diving
The Similan Islands both above and below the water is a sight once seen is never forgotten.
The Similan Islands are located in the Andaman Sea, off the western coast of Thailand. Specifically, they are situated approximately 84 kilometers northwest of Phuket and about 65 kilometers west of Khao Lak, another popular tourist destination on the mainland. This archipelago is part of the Phang Nga Province and has been designated as a protected marine national park. The islands are accessible primarily from the port towns of Phuket and Khao Lak, from where various marine vessels, including liveaboards and day-trip boats, embark on journeys to the islands.
The underwater terrain of these islands teems with a rich array of marine life. Frequent sightings include leopard sharks, guitar rays, whitetip sharks, as well as a myriad of colorful fish such as clown triggerfish, rabbitfish, scorpionfish, snappers, emperor fish, and giant trevallies.
Declared a National Park in 1982 and considered one of the top liveaboard diving destinations in the world, Similan Islands liveaboard offer divers exceptional diving opportunities.
Let's explore the dive sites of the Similan Islands in details:
Anita's Reef: Situated between Similan Islands 4 and 5, Anita's Reef offers diving depths that range from 5 to 30 meters, making it perfect for beginners and underwater photographers. The site features a tranquil coral garden brimming with small reef fish such as damselfish, butterflyfish, and parrotfish. The sandy bottom areas are ideal for observing garden eels and the mesmerizing movements of blue-spotted stingrays.
West of Eden: Located on the eastern side of Island 7, West of Eden plunges to depths of 10 to 35 meters. This site is particularly suited for intermediate divers and is renowned for its wall dive setting. The wall is adorned with an exquisite variety of both soft and hard corals, including striking fan corals. Marine life is abundant here; from rare nudibranchs that captivate macro photographers to moray eels hidden amongst the coral formations, and schools of snappers that occasionally grace the area.
Boulder City: Located away from the main islands, Boulder City is an isolated dive site suitable for advanced divers, offering depths that range from 15 to 40 meters. The site features large granite boulders surrounded by fields of staghorn coral. Divers have the opportunity to encounter large pelagic species such as trevallies and barracudas, making the site a must-visit for those looking for a bit of excitement.
Donald Duck Bay: Donald Duck Bay is located on Island 4 and offers a relatively shallow dive, perfect for beginners and snorkelers. Known for its scenic beauty both above and below the water, the bay provides divers with a relaxing environment to observe the vibrant reef and its inhabitants. From nudibranchs to crustaceans and even small reef sharks, Donald Duck Bay offers a little bit of everything for the underwater explorer.
Elephant Head Rock: Found near Island 8, Elephant Head Rock is a dive site for the more advanced diver, featuring depths that can go down to 40 meters. The site is aptly named for its large, elephant-like granite boulders that create a complex labyrinth of swim-throughs, arches, and caverns. Among these geological formations, you'll encounter a wealth of marine life, including the elusive giant moray eel. The site's depth and complexity make it a prime location for those seeking a challenging yet rewarding dive experience.
Shark Fin Reef: Comprised of three granite pinnacles, Shark Fin Reef is situated to the south of Island 9. Depths range from 10 to 30 meters, and the site is well-suited for intermediate and advanced divers. Known for its frequent sightings of reef sharks and barracudas, Shark Fin Reef is a top choice for divers looking to experience the thrill of encountering larger marine species.
Honeymoon Bay: Located on Island 4, Honeymoon Bay is a unique site offering shallow depths, ideal for night dives and macro photography. The calm and protected bay is rich in smaller marine life, making it an excellent spot for those looking to focus on the smaller details of the underwater world, from colorful nudibranchs to tiny crustaceans.
Christmas Point: Situated on the northwest side of Island 9, Christmas Point is a series of rocky outcrops that descend to about 35 meters. It is a great site for advanced divers interested in larger marine species. Regular sightings include manta rays, and there are even occasional visits by majestic whale sharks.
Each of these dive sites offers a unique glimpse into the underwater marvels of the Similan Islands, ensuring an unforgettable diving experience for adventurers of all skill levels.
The water temperatures in the Similan Islands range from 27-29°C, offering comfortable diving conditions. Visibility often exceeds 30 meters, especially between November and April.
When To Go To Similan Islands?
The best time for liveaboard diving in the Similan Islands is generally from November through April, a period that aligns with Thailand liveaboard dry season. During these months, the Andaman Sea is at its calmest, and the weather conditions are optimal for both sailing and diving.
The advantage of choosing a liveaboard during this period is the remarkable water clarity. Visibility often exceeds 30 meters, and water temperatures are comfortably warm, ranging from 27-29°C (81-84°F). These conditions make it easier to explore the islands' intricate underwater topography and to observe its vibrant marine life in all its glory.
Another benefit of visiting during this season is the increased likelihood of encountering larger pelagic species like manta rays and whale sharks, particularly between February and April when plankton blooms attract these gentle giants. If you're an underwater photographer or simply an ocean lover eager to see these majestic creatures, timing your liveaboard experience for these months can be highly rewarding.
The Similan Islands are usually closed for tourism from May to October to allow for marine life recovery and conservation efforts. This also coincides with Thailand's monsoon season, when the Andaman Sea experiences rougher conditions, making diving less safe and enjoyable.