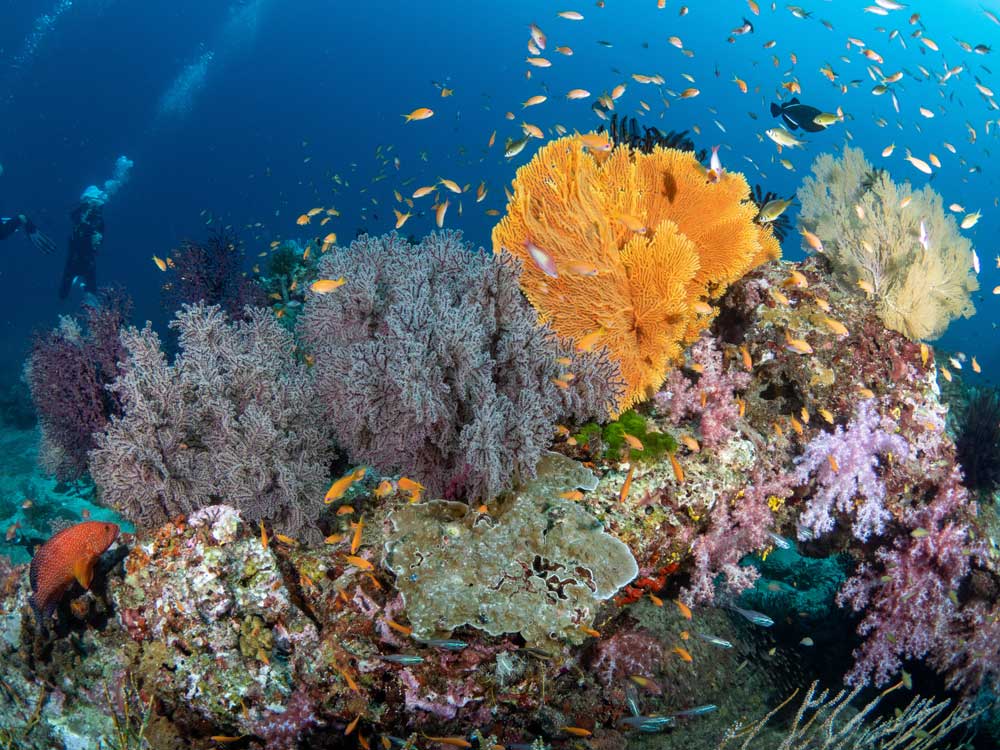 Dive Deep, Dream Big: Premiere Thailand Liveaboard Diving
Experience the underwater wonders of the Andaman Sea with Thailand liveaboard diving. Dive into pristine waters, explore vibrant coral reefs, and encounter marine life up close.
With chances to see whale sharks, and manta rays among the other abundant marine life, liveaboard diving in Thailand provides a colorful underwater environment. Many people keep coming back due to Southeast Asia's vibe and the reasonably priced diving safari. The Gulf's Koh Tao and Koh Samui, the Andaman Sea's Koh Phi Phi, Koh Lanta, and Phuket, are among Thailand's top diving locations.
Liveaboard diving in Thailand unveils a trio of underwater paradises that every diver dreams of. At the Similan Islands, dive amidst staggeringly clear waters and vibrant coral gardens, where tropical fish play hide and seek among the reefs. Journey to Richelieu Rock, a haven for pelagic lovers, where the majestic whale sharks and playful manta rays glide gracefully. Lastly, the Mergui Archipelago beckons with its uncharted waters and untouched underwater terrains, offering divers a chance to explore a world few have seen. Experience the pinnacle of diving adventures in these three iconic Thai dive locations.
About Thailand Liveaboard Diving
Thailand Beneath the Waves: Dive, Drift, Dream on a Liveaboard.
Divers will agree that liveaboard diving in Thailand is a once-in-a-lifetime experience because the country has so many underwater wonders.
The Similan Islands are a favorite among many. Liveaboard diving in the Similan Islands lets you explore several notable dive sites:
The Similan Islands are the best place to dive in Thailand. They are in the middle of the Andaman Sea. These islands are known for their huge granite boulders with complex tunnels and arches that are fun to explore. There are more than 20 sites to dive. Elephant Head Rock, West of Six, and Christmas Point are just some of them. Sharks, large sea fans, and massive schools of fish live in these waters, making an array of life beneath the waves. But divers should be aware that the currents in some places are strong and require a certain amount of experience. Even above the water, the islands don't let you down. Beaches with white sand are just as beautiful above the water as they are below.
The renowned Richelieu Rock, known as the pelagics capital of Thailand, is close by. It is a limestone pinnacle that rises from the depths of the ocean to give divers a show of sea life. When plankton-rich upwellings happen in the area, beautiful whale sharks, manta rays, and barracudas come to feed. Divers will also enjoy the macro-life that lives in the shade of Richelieu's purple soft corals and sea fans. Strong currents mean that only people with a lot of diving experience should go here.
Liveaboards in Thailand frequently come into contact with Koh Tachai and Koh Bon, both of which are a part of the Similan Island National Park, while traveling in the direction of Richelieu. Here, you can see more pelagics, like the friendly Napoleon Wrasse, as well as the hard-to-find macro-critters that come out at night.
A long Liveaboard dive tour in the Andaman Islands takes in more than just the above-mentioned wonders. One of these places is the beautiful Surin Islands, which have the most types of hard coral in all of Thailand. It's a haven above and below the water, with bay beaches and lots of island wildlife. The Mergui Archipelago in Burma is another hotspot. It was opened to dives in the late 1990s. With a well-kept environment, it is possible to see everything from big pelagics to tiny macro-species. 
From October to May, expert divers can go on tours in North Andaman, which are designed for the best visibility and surface conditions. The normal water temperature is between 27 and 30°C, which is nice. Most of the time, these tours include the Similan Islands, Richelieu Rock, the Surin Islands, and sometimes parts of the south of Burma.
Divers on liveaboards in the South Andaman Sea can get close to Phuket's underwater front yard. Some of the best places to dive are Hin Daeng and Hin Muang, which are underwater peaks covered with colorful anemones, crabs, and sea fans. Whale sharks and manta rays are often seen here. Koh Ha and Koh Rok, on the other hand, are unspoiled islands with some of the best coral reefs in Thailand. 
Phuket and Phi-Phi Liveaboards in the South Andaman offer certification classes for people who want to learn how to dive. Liveaboard tours here offer trips that last from two to six nights and are good for both new and experienced swimmers. Most of the time, these tours run from April to October and leave either from Chalong Pier in Phuket or from Pak Bara Pier near Hat Yai.
When To go?
October to May: This period is generally considered the prime diving season in the Andaman Sea, with clearer waters and better visibility.
Avoiding the Monsoon: It's crucial to steer clear of the monsoon season, which occurs between May and October, especially in the South Andaman Sea.
Whale Shark Season: If spotting the majestic whale shark is on your bucket list, then visiting between February and May offers the best chances, especially around sites like Richelieu Rock.