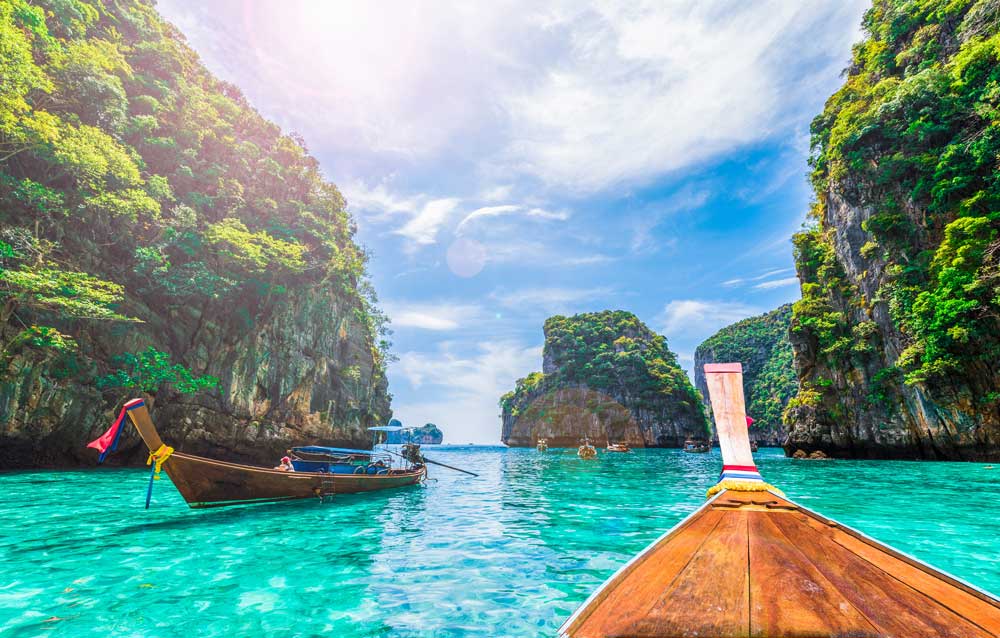 Phi Phi Liveaboard Diving: Thailand Unmatched Experience
Embarking on a Phi Phi liveaboard is the most perfect way to dive into the heart of Thailand's aquatic splendor. These islands, immortalized on the silver screen, offer not just picturesque landscapes but also underwater scenes that are equally dramatic and compelling. Here is your guide to Phi Phi liveaboard diving, a journey that combines thrilling marine encounters with the serene beauty of the Andaman Sea.
The allure of a Phi Phi liveaboard lies in the opportunity to wake up each day in this tropical paradise, steps away from some of the most captivating dive sites in the world. Liveaboards provide a mobile base that ferries you from one spectacular dive location to the next, far beyond the reach of day-trippers.
A Phi Phi liveaboard adventure is an unforgettable way to dive deeper into the jewels of the Andaman Sea. With a tapestry of marine life beneath its turquoise waters and a variety of dive sites that cater to every level of diver, Phi Phi stands as a must-visit destination on any diver's list.
About Phi Phi Liveaboard Diving
The marine life in Phi Phi is diverse and plentiful. Divers can expect to see a variety of reef fish, eels, octopuses, and if lucky, majestic whale sharks and manta rays.
The Phi Phi Islands are a group of six islands located in the Andaman Sea, off the southwestern coast of Thailand. They are part of Krabi Province and are situated halfway between the island of Phuket and the mainland. The two main islands are Phi Phi Don and Phi Phi Leh, with the latter being famously featured in the movie "The Beach" starring Leonardo DiCaprio.
Historically, the islands were long home to Muslim fishermen and later became a coconut plantation. The name "Phi Phi" is derived from Malay, and the original name for the islands was "Pulao Pi ah Pi," where "pulao" means island and "pi ah pi" is the name of the mangrove wood found there.
The islands first gained attention on the international travel circuit in the 1980s, and their popularity has surged ever since, thanks to their stunning beaches, clear waters, and vibrant marine life. Despite suffering significant damage during the 2004 Indian Ocean tsunami, the Phi Phi Islands have since recovered and remain a top tourist destination, known for their incredible natural beauty and rich underwater ecosystems.
Phi Phi Dive Sites
Bida Nok and Bida Nai
Stunning limestone walls, vibrant coral gardens, and an abundance of fish life. Look out for leopard sharks resting on the sandy bottom, turtles gracefully navigating the soft corals, and schools of snappers creating an ever-changing tapestry.
Palong Wall
Palong Wall is renowned for its shark encounters, predominantly with blacktip reef sharks cruising along the wall, adding an adrenaline rush to the serene underwater experience.
Maya Bay
Made famous by the film "The Beach," Maya Bay is not only a popular top-side attraction but also a magnificent dive site, especially now that efforts to preserve its natural beauty are in place.
Diving Conditions in Phi Phi
Phi Phi's waters are typically calm and clear, with visibility ranging from 15 to 30 meters, depending on the season. The water temperature is a warm 27-30°C, making for comfortable dives without the need for thick wetsuits.
Best Time to Visit Phi Phi
The best time to board a Phi Phi liveaboard is from November to April, during the northeast monsoon season when the seas are calmest, and visibility is at its best.
Diving Experience Required
Most Phi Phi liveaboards cater to divers of all experience levels, from beginners to seasoned veterans. It is, however, advisable to be comfortable with open water diving due to the possibility of currents and deep dives.
How to Get There
The journey to Phi Phi typically begins with a flight to Phuket or Krabi, followed by a picturesque ferry ride to the Phi Phi Islands, where you'll board your liveaboard vessel.
The marine life in Phi Phi is diverse and plentiful. Divers can expect to see a variety of reef fish, eels, octopuses, and if lucky, majestic whale sharks and manta rays. Macro enthusiasts will delight in searching for seahorses, nudibranchs, and shrimp among the coral crevices.