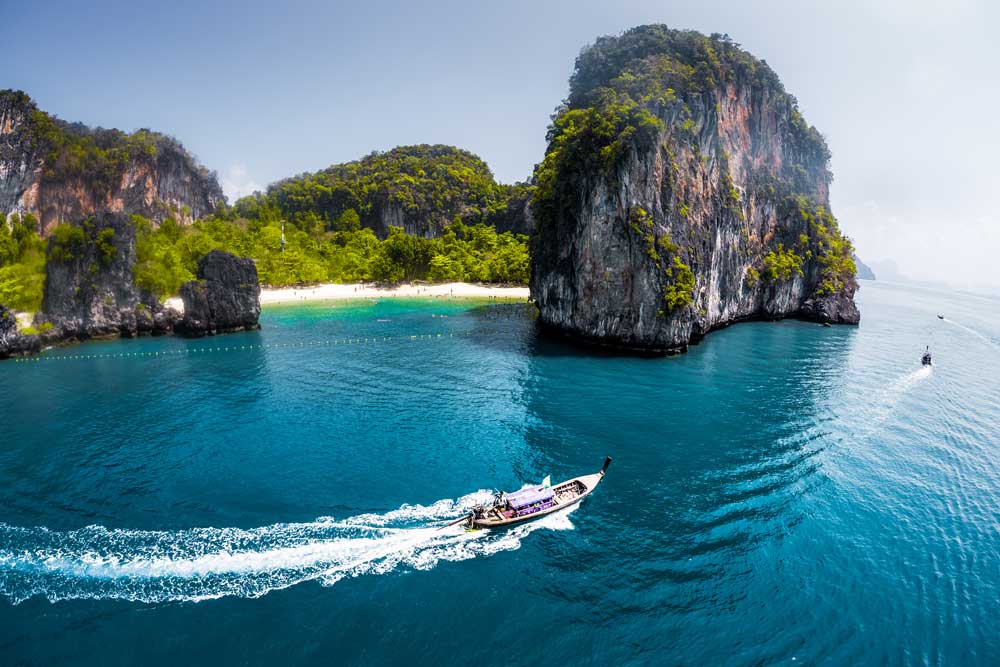 Explore The Paradise in Andaman Sea Liveaboard Diving in Thailand
Embark on an unforgettable liveaboard diving adventure in Thailand's Andaman Sea, a true gem for diving enthusiasts. With its clear turquoise waters, thriving marine life, and mesmerizing underwater landscapes, the Andaman Sea liveaboard promises a divine diving experience that will leave you spellbound.
The gateway to this underwater paradise is through Thailand's renowned marinas, notably Phuket and Krabi, which are well-situated for exploring the Andaman's exquisite dive sites.
About Andaman Sea Liveaboard
As you venture into the Andaman Sea liveaboard, the treasure trove of dive sites unfolds before you.
The Andaman Sea, with its historical maritime routes, has played a significant role in regional trade for centuries. Its waters have witnessed the passage of numerous civilizations, adding a rich historical tapestry to your diving adventure.
When planning your liveaboard diving trip in the Andaman Sea, it's wise to book well in advance, especially if you aim to visit during the peak season. It's also prudent to check the latest travel advisories and ensure that your diving certifications are up to date. Embrace the chance to explore multiple dive sites, and don't rush - the Andaman Sea's underwater marvels deserve time to be fully appreciated.
The Andaman Sea, off the west coast of Thailand, is a haven for divers. Its waters hold an array of fascinating dive sites, each with its unique allure. Among these cherished dive destinations are Koh Bon, Koh Tachai, Richelieu Rock, Similan Islands, Surin Islands, and Koh Lanta. Let's jump into learning more about these dive destinations of Andaman Sea liveaboard divin in Thailand.
Koh Lanta, situated in the southern part of the Andaman Sea, is known for its laid-back vibe on land and vibrant underwater world. Divers here are greeted by a variety of marine life including manta rays and whale sharks. The dive sites around Koh Lanta offer an array of experiences from exploring underwater caves to drifting along soft coral gardens.
Venture a bit north and you'll encounter the Surin Islands. This group of five islands is renowned for its clear waters and rich marine biodiversity. Diving here is like entering a living aquarium with a plethora of fish species swimming amidst colorful coral reefs. The Surin Islands are less crowded, providing a more serene diving experience.
Further into the Andaman Sea lie the Similan Islands, a group of eleven islands known for their dramatic underwater topography. The boulders, caves, and reefs here house an abundant marine life including reef sharks and rays. The visibility in the Similan Islands is exceptional, often extending up to 30 meters, making it a picturesque diving location.
Richelieu Rock, a pinnacle in the middle of the sea, is perhaps one of the most famous dive sites in Thailand. Its horseshoe shape encloses a realm teeming with marine life. The soft corals and sea fans decorating the rock attract a kaleidoscope of aquatic creatures including the majestic whale sharks and manta rays.
Continuing the journey, Koh Tachai awaits with its pristine white sandy seabed and impressive boulder formations. This site is known for its strong currents which attract pelagic creatures such as manta rays and leopard sharks. The swirling schools of barracuda are a sight to behold.
Lastly, Koh Bon, a remote island, is a hotspot for manta ray sightings. The western ridge of Koh Bon is famous for its cleaning stations where manta rays come to get groomed by smaller fish, providing a spectacle that is both endearing and exhilarating for divers.
When To Go To Andaman Sea?
Diving with an Andaman Sea liveaboard is a year-round delight, although the prime time to explore these underwater realms is from November through April, when the seas are calm and the visibility is at its zenith.
The water temperature remains a comfortable 27 to 30 degrees Celsius (80F to 86F) throughout the year, making it pleasant for divers of all experience levels.