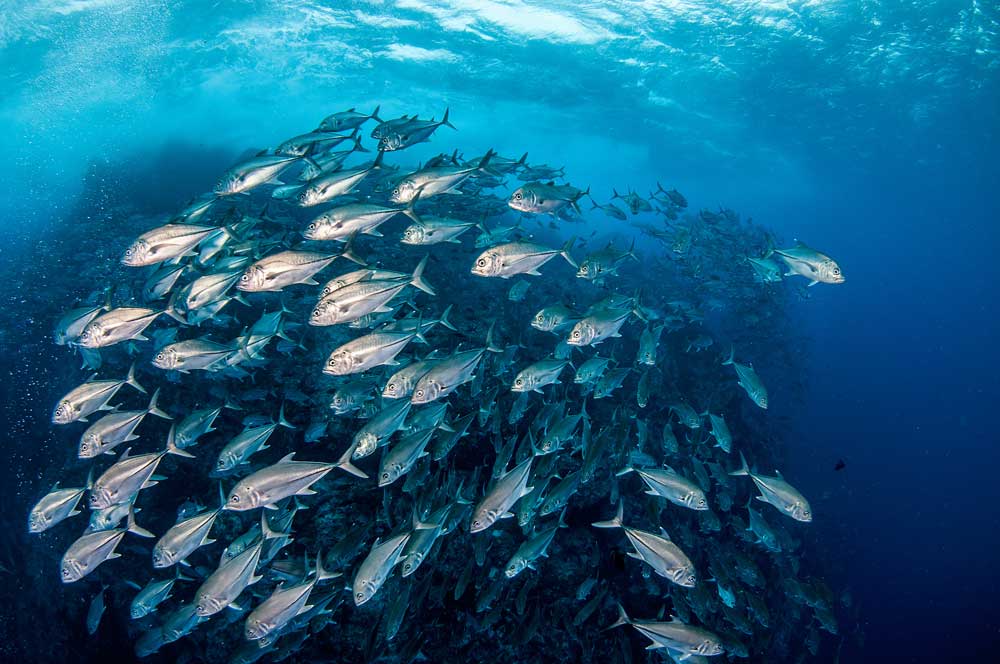 Cocos Island Liveaboard: Dive into Costa Rica
Cocos Island, over 300 miles from the shores of Costa Rica, beckons as a true Eden for the dedicated diver. This UNESCO World Heritage site is an unblemished jewel of nature, accessible solely by liveaboard, offering an unparalleled underwater experience where the marine life is as abundant as it is diverse.
A liveaboard trip to Cocos Island transcends the typical dive vacation. It is an expedition to an aquatic wildland that has been left largely untouched by human hands. Each dive is a journey back in time to an ocean that teems with life and diversity, providing a deep and meaningful connection to the natural world. Cocos Island is not just a place to dive; it is a place to become one with the ocean's pulse.
About Cocos Island Liveaboard Diving
Costa Rica is a verdant jewel nestled in the heart of Central America, known for its stunning biodiversity, lush rainforests, and pristine beaches.
The Cocos Island haven is not only a sanctuary for flora and fauna in Costa Rica but also a haven for eco-tourists and adventure seekers. The nation's commitment to preserving its natural treasures is evident, with approximately a quarter of its land protected within national parks and reserves.
Historical Spotlight on Cocos Island
Cocos Island boasts a history shrouded in tales of buried pirate treasures, most famously linked to the legend of the Treasure of Lima. It is said that hundreds of gold statues, religious artifacts, and immense wealth were stashed away by a pirate named Benito Bonito in the early 19th century, though no treasure has ever been found. The island's rich history and stunning biodiversity were the inspiration for Michael Crichton's novel, and later Steven Spielberg's film, "Jurassic Park."
The Voyage to Cocos Island
Embarking from Puntarenas in Costa Rica, the passage to Cocos Island aboard a liveaboard is the beginning of what promises to be an epic underwater adventure, one that takes around 36 hours across the Pacific and is the only way to access this remote and pristine island sanctuary.
Cocos Island Dive Sites
Dirty Rock: This site is famed for its towering volcanic pinnacles that draw schools of hammerhead sharks, creating a swirling vortex of marine life that also includes jacks and tuna.
Bajo Alcyone: A submerged mountain where the currents bring together hammerheads, mantas, and occasionally, the elusive whale shark, making for a spectacular dive.
Big Dos Amigos: Home to a large arch and an impressive pinnacle, divers here enjoy encounters with white-tip reef sharks, swirling schools of hammerhead sharks, and the colorful spectacle of fish like snappers and jacks.
Punta Maria: Recognized for sightings of tiger and Galapagos sharks, this site offers a dramatic underwater landscape dotted with groupers, jacks, and the occasional marauding school of barracuda.
Submerged Rock: Known for its challenging conditions, this pinnacle site is rewarded by the sight of large schools of fish, including chevron barracuda, and the soft corals and sponges that cling to the rock.
Best Time to Visit Cocos Island
The ideal months for a Cocos Island liveaboard excursion are between June to December. During the wet season, nutrient upwellings attract dense shoals of hammerhead sharks, whale sharks, and other pelagics. Visibility ranges from 60 to 100 feet, and water temperatures average between 72 and 82°F. The dryer season may offer calmer seas and better visibility but fewer large marine encounters.
Underwater Conditions
Divers should be prepared for strong currents and potentially challenging conditions, which are part of what makes Cocos Island so special. These currents are the lifeblood of the island, bringing in the nutrients that support its rich marine ecosystem.