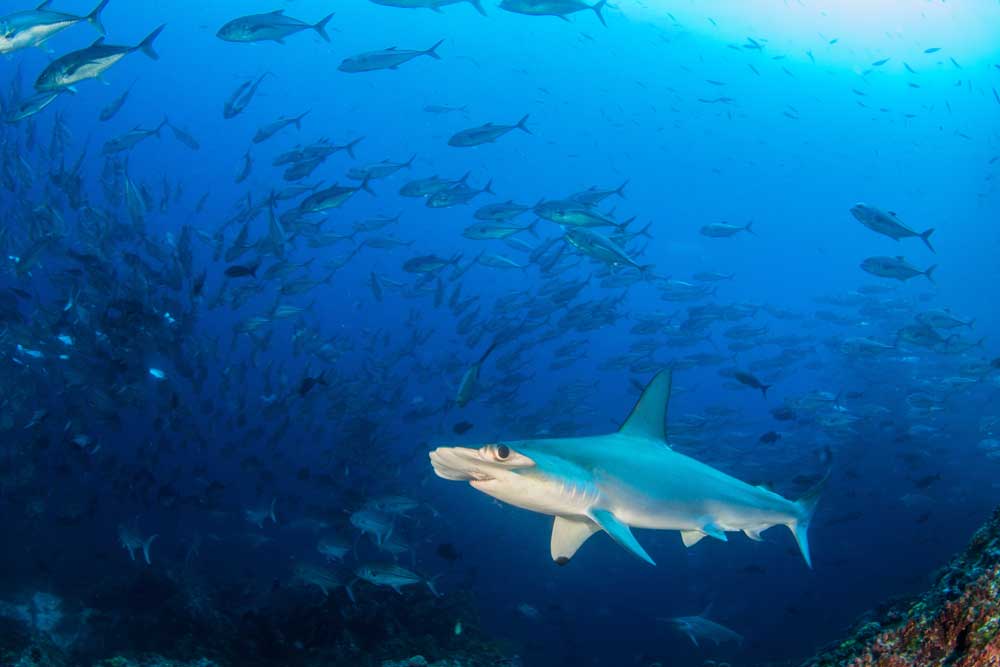 Discovering Costa Rica Liveaboard Diving
Delve into the rich biodiversity of Costa Rica's Pacific coast and experience some of the most thrilling dives of your life, all by taking a liveaboard Costa Rica.
Costa Rica, known for its rainforests and wildlife, also offers some of the most exciting scuba diving adventures in the Pacific.
Liveaboard diving in Costa Rica waters is teeming with life. Dive with schools of rays at Bat Islands, or explore the pelagic life at Cocos Island, a UNESCO World Heritage site. Encounter hammerhead sharks, whale sharks, manta rays, and the seasonal migration of humpback whales.
Each dive site in Costa Rica has its unique attractions, be it the diverse marine life, historical shipwrecks, or incredible underwater landscapes.
About Costa Rica Liveaboard Diving
The oceanic world of Costa Rica Liveaboard Diving
Costa Rica, fondly known as the 'Rich Coast', is not just celebrated for its lush rainforests and wildlife, but also for its captivating underwater world. Liveaboard diving in Costa Rica offers divers an unparalleled experience, allowing divers from all around the world to immerse themselves in the heart of the Pacific Ocean, surrounded by an abundant marine life. Costa Rica offers a diverse range of dive sites. Here are a few highlights:
Diving areas and dive sites in Costa Rica
Cocos Island Often dubbed the 'Costa Rican Galápagos', this UNESCO World Heritage site lies about 340 miles off the Pacific coast. Recognized for its hammerhead shark schools, the dives here are a mix of thrilling drifts and placid coral sites. Besides hammerhead sharks, expect manta rays, dolphins, and even the occasional whale shark. This remote paradise is a 36-hour journey from the main port of Puntarenas.
Bajo Alcyone: Here, hammerhead sharks swirl around divers in captivating formations.
Dirty Rock: A site with a mix of white tip sharks, eagle rays, and hammerheads.
Dos Amigos: Famous for its large arch and the plethora of marine life it shelters.
Cano Island Closer to the mainland, approximately a 90-minute boat ride from Drake Bay, this island is renowned for its reef sharks, rays, and turtles. Dive spots like El Bajo del Diablo provide a mix of deep dives and serene underwater experiences. A blend of reef sharks, rays, colorful fish, and turtles.
Bat Islands (Islas Murciélagos) Known for the bull sharks of Big Scare, these islands are a must-visit for the thrill-seekers. Predominantly bull sharks, but also manta rays and schools of jackfish. Typically around a 60-minute boat ride from Playas del Coco.
The water temperatures in Costa Rica generally range from 24°C to 30°C (75-86°F) in Cocos island and around 27°C to 30°C (81-86°F) in Cano and Bat Island.
While diving is possible year-round, the best time is during the dry season, between December and May. However, those seeking the magnificent sight of hammerhead schools should consider August to September at Cocos Island.
Whether you're an adrenaline junkie seeking a bull shark encounter or someone looking to drift calmly alongside manta rays, liveaboard diving in Costa Rica is bound to leave an indelible mark on your diving journey.
When To go?
Costa Rica offers great diving throughout the year, but the best time depends on the specific region and what you hope to see. December to April is the dry season, offering calmer seas and better visibility.
Cocos Island is best visited during the rainy season from June to December, which is when the hammerhead sharks and other pelagic life are most active.
Humpback whales can be seen from December to April as they migrate through the region.