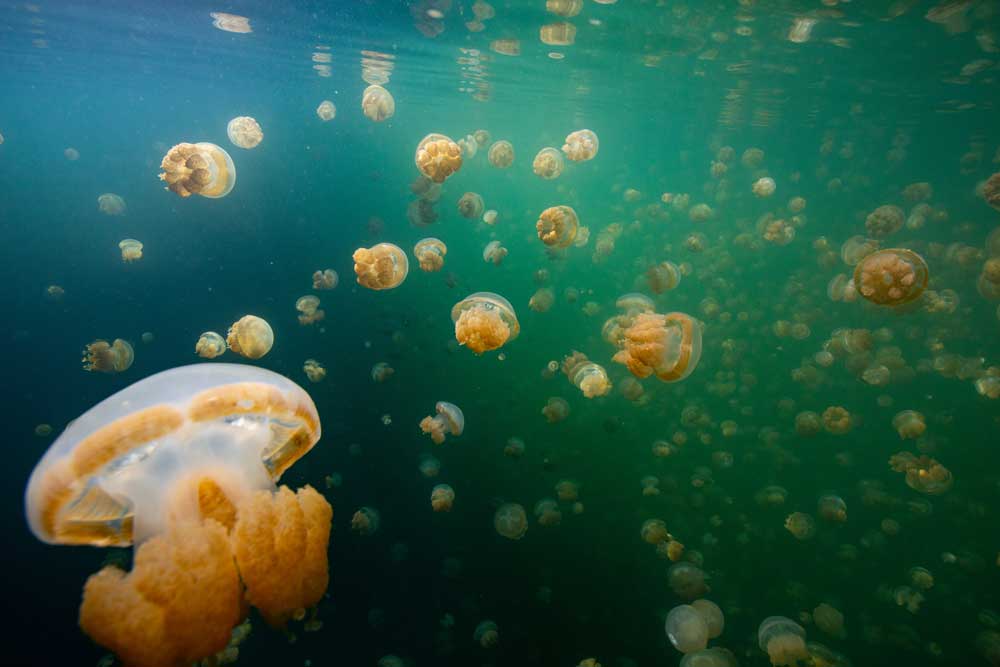 Your Complete Guide to Palau Liveaboard Diving in Micronesia
Palau liveaboard diving trip will without a doubt leave you with memories for a lifetime. From its captivating dive sites to its mesmerizing marine life, Palau stands as a jewel in the crown of Micronesia's diving destinations. Book your next liveaboard adventure in Palau and dive into a world that defies imagination.
Dive into this comprehensive guide to learn everything about what makes Palau a top diving destination, from its unparalleled marine biodiversity to its stunning underwater landscapes.
Divers from around the globe are drawn to Palau primarily for its renowned diving spots, teeming marine life—particularly the abundant shark population—and vibrant coral reefs. The significant presence of sharks is a testament to the health of Palau's underwater ecosystems, which is largely due to the nation's progressive approach to marine conservation.
About Palau Liveaboard Diving
Dive in Palau to see lots of sharks, colorful fish, and amazing coral, all thanks to the country's strong focus on protecting marine life.
In a groundbreaking move in 2009, Palau established the world's inaugural shark sanctuary, providing protection for more than 135 shark species in the Western Pacific. Building upon this, the country went on to create the world's largest marine sanctuary in early 2014 by banning commercial fishing in an area as large as France.
Palau's dive sites are considered some of the most pristine and unspoiled in the Pacific. A month-long study conducted in 2015 by scientists from the Global Reef Expedition revealed that compared to other regional reefs, Palau's coral health is exceptional. The researchers discovered that the average live coral cover in Palau exceeded 45%, with some marine protected areas (MPAs) showing coral density as high as 70%. This level of coral cover is among the world's highest, even when measured against the planet's most celebrated coral ecosystems.
Palau Dive Sites
Blue Corner: Offering an unparalleled opportunity to see sharks, massive schools of fish, and other large marine animals, Blue Corner is a drift dive haven—but not for beginners due to strong currents. Located about 46 km (25 mi) from Koror, this iconic dive site is situated on the Northwest tip of Ngemelis Island and forms part of the South West reefs of the Palau islands. Blue Corner is arguably Palau's most famous dive spot.
Jellyfish Lake: Experience the sensation of swimming among millions of harmless, sting-free jellyfish in this unique snorkeling locale—scuba diving is not allowed here, as the bubbles can hurt the jellyfish. One of the most iconic water activities in Palau, Jellyfish Lake offers an encounter you won't soon forget.
German Channel: Known for being one of the best spots worldwide to get up close with Manta Rays, German Channel is located at the southwest mouth of the channel. Though the channel is known for strong currents, it became a popular dive site. German Channel is without a doubt one of Palau's most frequented diving spots.
Iro Maru Wreck: Featuring coral-encrusted canon guns and an array of other fascinating details, the Iro Maru Wreck rests at depths ranging from 23-35m (75-114ft). This wreck is just one of several in the area, mostly from World War II. It's a must-see site on any Palau liveaboard diving itinerary.
For the best diving experience on a Palau liveaboard, it is recommended having at least an advanced open water diver certification or equivalent, ideally with Nitrox as well. This allows you to dive deeper while also extending your bottom time, so you won't miss out on renowned dive sites like Blue Corner. Basic open water certification only permits dives up to 18 meters. However, Palau offers diving adventures for all skill levels. Even if you're not an advanced diver, you can still enjoy Palau's underwater wonders.
To put it in short, diving on a Palau liveaboard is can be presented just like this... Palau is an archipelago of over 500 islands, part of the Micronesia region in the western Pacific Ocean. For diving in Palau, most divers fly to Koror from Manila, Guam, Japan, Taipei and even Korea. Once you land, you can basically get on the boat and start diving
When To Go To Palau?
Palau is famous for good diving all year round and although you may visit in what is known as the rainy season, typically the rain falls in majority at night with little affect on diving activities. Otherwise, Palau liveaboard diving benefits of three diving season.
High Season
If you have the possibility to choose, ideally you should go to Palau in the months between December and March. During these months, diving in Palau is usually at its best, with calm water, great visibility and less rain. Make sure though to book your trips and activities in advance.
Shoulder Season
The months of April, July, August, October and November are bringing quite some rain and the sea can be choppy but as always, Palau diving remain largely unaffected compared to other diving destinations around the world.
Low Season
May, June and September are the most rainy months but on the upside, the dive sites are less crowded and most of them can still be accessible.