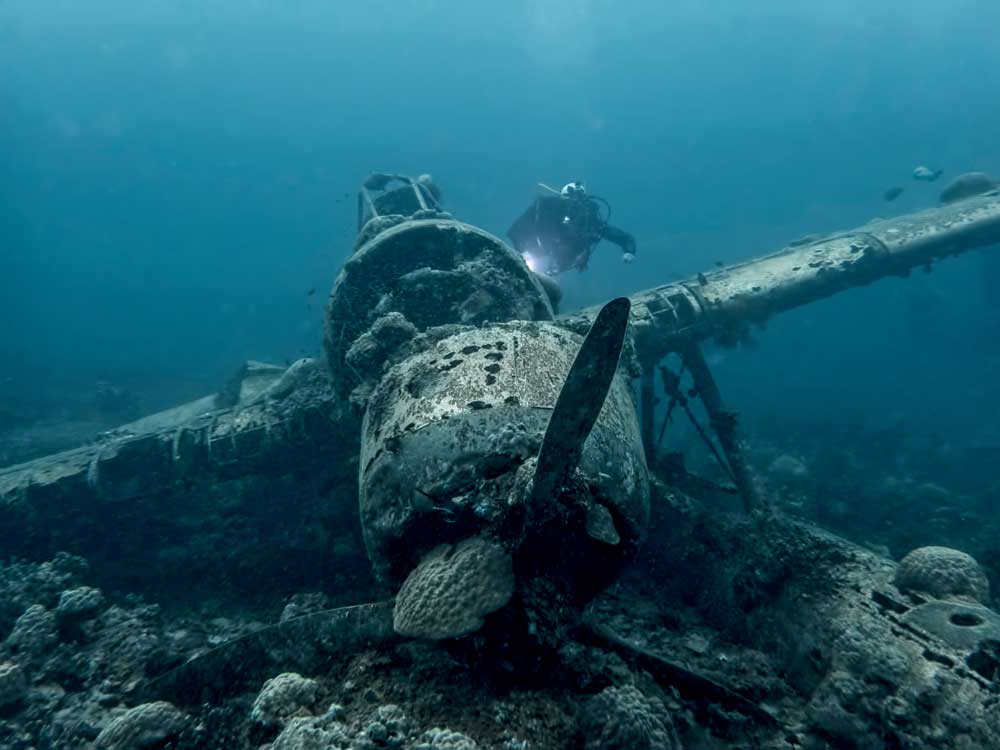 Micronesia Liveaboard Diving: Your Ultimate Guide
Discover the enthralling allure of Micronesia, a dive destination of unrivaled beauty and biodiversity, with the experience of a lifetime: Micronesia liveaboard diving.
Nestled in the Western Pacific, this tropical paradise offers an unparalleled variety of underwater landscapes and sea life, making it a mecca for divers. In this comprehensive guide, we dive deep into the regions, dive sites, seasons, water conditions, marine life, and travel tips you need to know to plan your ultimate Micronesia liveaboard diving trip.
Why Choose Micronesia for Liveaboard Diving? Incredible diversity, rich history, and pristine marine life.
Micronesia spans over a thousand small islands, each boasting its unique underwater scenery. From shallow coral reefs to deep wall dives, there's a niche for every diver, regardless of skill level.
About Micronesia Liveaboard Diving
One of the many highlights of Micronesia liveaboard diving is the historical dimension.
Micronesia spans over a thousand small islands, each boasting its unique underwater scenery. From shallow coral reefs to deep wall dives, there's a niche for every diver, regardless of skill level or diving certification.
On any Micronesia liveaboard you may choose, you can explore sunken warships and aircrafts, even ancient ruins. The World War II wrecks around Chuuk Lagoon are especially rich in history and provide a haunting yet intriguing diving experience.
On the other hand, Micronesia's underwater world is teeming with life. From enormous schools of fish to rare species of sharks and rays, divers will be wowed by the encounters they'll have in these untouched waters. It is safe to say that diving in Micronesia is a unique experience primarily because it is yet to be touched by mass tourism which is why the Micronesia liveaboards are not many.
Best Diving Areas in Micronesia
Boasting over 1,400 types of fish, 500 varieties of robust coral, and an abundance of large oceanic creatures, Palau should hold a premier spot on anyone's diving wishlist. From whale sharks and eagle rays to reef sharks, turtles, and the rare sighting of hammerheads, the breadth of marine life in this Micronesian island chain is truly remarkable. In the diving area known as the German Channel, divers get the change to witness the majestic Manta Rays. These graceful creatures gather in large groups to consume plankton and visit cleaning sites. At these stations, cleaner wrasses and butterflyfish enthusiastically carry out their cleaning roles.
Blue Corner: Known for strong currents that bring in large schools of fish, this site is ideal for experienced divers. The site is also famous for its ledge where divers can 'hook in' to watch the underwater world pass by.
Jellyfish Lake: A unique brackish lake that allows for an extraordinary snorkeling experience among millions of non-stinging jellyfish. Due to the unique conditions, scuba diving is not allowed to protect the delicate ecosystem.
Despite its nutrient-rich waters and currents, Palau offers exceptional visibility that can extend up to 30 meters or more. Diving in Palau is an all-year activity, although the optimal period is the dry season, which spans from October to May. Water temperatures are consistently warm, ranging between 81-86°F (27-30°C), and a light 3mm wetsuit is usually sufficient for year-round diving.
Chuuk (Truk) Lagoon:
For technical divers seeking deeper explorations, Chuuk Lagoon offers an ideal setting, as its surrounding reefs act as a natural barrier against strong currents, making the dive conditions relatively easy. The lagoon has become synonymous with wreck diving, boasting vessels that have been submerged for over six decades. These underwater relics are remarkably well-preserved, enveloped in a mix of soft and hard coral.
Diving inside some of these wrecks reveals a treasure trove of historical artifacts, ranging from Zero airplanes and artillery guns to torpedoes, engine rooms, and even tanks, trucks, and ammunition. While the wrecks are a major draw, divers are also encouraged to explore Chuuk Lagoon's outer reefs. These areas offer stunning coral formations and vertical walls teeming with large ocean-dwelling species, providing a different yet equally mesmerizing underwater experience.
Fujikawa Maru: This Japanese WWII cargo ship is one of the most dived wrecks in the world. It's renowned for the plethora of artifacts, including fighter plane parts and ammunition, that can be seen during the dive..
Shinkoku Maru: This sunken tanker is often cited as the most beautiful wreck dive in the world due to its encrustation of soft and hard corals, making it a living reef.
There are lots of sunken ships to explore, and many are easy to get to for casual divers, sitting at depths of 100 to 130 feet (30-40 meters). How far you can see underwater varies but can be from 40 to 100 feet (12-30 meters), so sometimes you can see a whole sunken ship clearly. You can dive here all year, but the best time is from December to April. The water is usually warm, around 82-84°F (28-29°C).
Yap:
If you're fascinated by manta rays, Yap is your underwater paradise. Even beginner divers can easily enjoy these magnificent creatures, as encounters often occur in shallow waters less than 10 meters deep. For those seeking more adrenaline-pumping experiences and a chance to see sharks, Vertigo is the go-to spot. This outer reef drop-off is celebrated for its pristine, crystal-clear waters.
Beyond mantas and sharks, Yap offers a diverse range of diving experiences. From navigating the swim-throughs of Yap Caverns to hunting for smaller marine critters at Rainbow Reef, there's something for every level of diver. Local guides are well-versed in the island's underwater geography and marine life, adding valuable insights to any dive excursion.
Valley of the Rays: If you're looking to dive with manta rays, the Valley of the Rays in Yap is the place to be. The site features a cleaning station where divers can watch these gentle giants up close.
Goofnuw Channel: With its strong currents, this channel is a drift diver's paradise. The channel features stunning coral formations and a wide range of marine life.
With a consistently calm climate and steady water temperatures averaging 82°F (28°C), Yap offers year-round diving opportunities. A light 3mm wetsuit is typically all that's needed to enjoy the comfortable conditions. Depending on the season, you can spot resident manta rays at various sites: they are commonly seen in the Mi'l Channel between November and May, and in the Valley of the Rays from May through November.
Micronesia liveaboard diving offers an unparalleled experience filled with breathtaking marine life, intriguing historical sites, and a variety of underwater landscapes to suit every level of diver. Don't miss the chance to explore this diver's paradise; book your liveaboard adventure today!
When To go?
Best season for any liveaboard in Micronesia is the high season of December to April. With clear skies and calm seas, visibility can reach up to 30 meters (100 feet) making this period ideal for photography and videography.
Less crowded, the low season of May to November offers divers a more serene experience. However, expect some rainfall and reduced underwater visibility during this period.